Comrade Whoopie

Comrades I've been watching the riots in France. A friend asked me how it will end. I told him confidently that it will end the day France elects a Marxist strongman with dictatorial powers. Only then will all the protesters suddenly roll up their red flags and go home.
My friend asked me if the same thing could happen here, especially since it appears that the GOP will sweep the mid-term elections. I told him yes it will because everything is going to plan. Then I told him of my 9 step plan...
~
The 9 step plan actually depends on a GOP return to power, in effect it snatches victory from what appears to be defeat. Let's face it, it's inevitable at some point. So if life hands you lemons make Leninade. Here then is my plan for bringing about the glorious world of next Tuesday which I will present at the next Party Congress.
1. Gradually create an entitlement society especially in the minority communities of major cities.
2. Bankrupt the treasury.
3. Wait for public anger to restore Republicans to power to address economic issues.
4. Republicans cut entitlement spending as well as taxes to spur growth and reduce unemployment.
5. Agitate minorities by telling them rich White Republicans are trying to deny them their Civil Rights.
a) White elitist radicals form the intellectual basis of this agitation by organizing protest marches.
b) Anarchists and New Black Panthers act out to encourage minorities to violence.
c) Police response escalates violence.
6. Union thugs join in with work stoppages and work related sabotage.
7. Most conservatives cower in their homes.
a) Rise of the self defense neighborhood militias.
b) Latin American style "death squads" targeting prominent Leftist agitators.
8. Public demands a stern, no non-sense leader to restore order.
a) Rightwing dictator?
b) Leftwing dictator?
9. Leftwing assumptions:
a) Since we control the violent element (Minorities, Unions, Anarchists) we are in the best position to restore order.
b) The typical conservative just wants to be left alone to live in peace and will surrender rather than fight back.
As you can see it relies on established patterns of conservative behavior, we have put them in a position in which they can do nothing else. Steps 1 and 2 are already complete. Step 3 is underway.
There is no way the Rightwing can escape this process. To do that they would have had to rebel at steps 1 or 2. There is a scant chance that they may overcome us if they refuse to cower during step 7 but I'm confident that even then they will fail to rise to the threat.

Krasnodar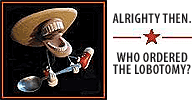 About " The Plan "..... I see no problems here. Every possible contingency has been accounted for. Because of this, step #7 will surely see conservative populations cowering in fear, as was the case when they didn't dare confront the State .....( did they ?) before the .....collapse of the Soviet Empire........uh............something's wrong here ................ hmmm. Well, if they did confront........... then...........

I'll get back to you about step #7.


Opiate of the People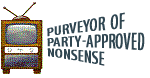 Glorious! There's nothing like violence and terror to bring about a peaceful, just society!


General Confusion

This is a masterplan!

It has already entered the execution phase, I trust that if there are any conservative icons they will be executed as well.

Most of them are wither in our pocket or belong to the Saudis.
You can never be sure what side anybody is on. If there is any doubt execute or addict to drugs so they are easily controlled.This is propaganda, we all know there have never been any riots in france.