Broadside

Come on people, it's not like Obama got elected because he was qualified. Identity politics is on full display in the Obama administration and this is just the latest example.
She herself said she was qualified not because of her intellect but because of her race.
Sadly, Republicans will let her get through and we will be stuck with somebody as big into socialism and making up new laws as Obama is.
If you have nothing nice to say:
BE CAREFUL!
[URL=http://www.politico.com/news/stories/0509/23016.html]
[/URL]Race Card: [URL=http://thehill.com/leading-the-news/critics-focus-on-sotomayor-speech-in-la-raza-journal-2009-05-27.html]CHECK!
http://thelcabroadside.wordpress.com/20 ... ook-clean/
[/URL]

Comrade Whoopie

Nonsense comrades, I already have it from the reliable sources at CNN and MSNBC that Sortamired is in fact a moderate centrist Latrina Hispaniel.


Commissar_Elliott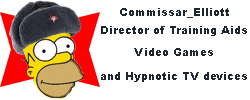 She is nothing more then a good socialist. After all, any good socialist could tell you we use the courts to make the law.