Komissar al-Blogunov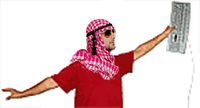 Aliens from another planet attempted to land in Roswell, New Mexico, but due to a navigation error accidentally landed in Marcopia County, Arizona, and were promptly arrested by Sheriff Joe Arpaio. "The UN is refusing to enforce intergalactic immigration law," said the controversial sheriff, "so we have to do their job for them." Arizona governor Jan Brewer immediately came to the defense of Arpaio. "He's doing his job which is to protect us from alien invasion," she said, "and I support him 100%. I know I speak for all Arizonans when I say we applaud his selfless devotion to duty." "This is my job," said Arpaio, "and I intend to do it to the best of my ability, even in the face of death threats." Arpaio would not comment on the specifics of any threats, but the FBI has released a grainy video of an individual whom they call "Black Helmet" saying in English, "You have failed me for the last time."
Communicating through hand, or foot, or maybe antenna gestures, the aliens indicated that they were expecting to meet with Mazlan Othman, the new UN ambassador to space aliens, and were baffled by such a hostile reaction. They further suggested that they were disturbed by the specist profiling for which planet earth has become infamous throughout the galaxy. "We are very disturbed by the constant negative portrayal of space aliens in culture and the media," said ACLU president Nadine Strossen, "and we deeply deplore this lack of tolerance manifested by this infamous sheriff. If this isn't reflexive, knee jerk, blatant specism, I don't what is."
In his efforts to inspire Democrat voters, Obama seized the moment in a speech to students gathered at the University of Wisconsin. "The sheriff acted stupidly," observed the president. "But let me be clear, I personally invite the aliens and Sheriff Arpaio to the Rose Garden for a summit as soon as we find out whether or not aliens from space can tolerate beer." Addressing the UN, Secretary of State Hillary Clinton exclaimed, "I. Am. Sick. And. Tired. of people who say that if you embrace space aliens, you're unpatriotic. I say, THIS IS AMERICA AND WE WELCOME BEINGS FROM OTHER PLANETS, AND NO SPACE ALIEN, ESPECIALLY FEMALE SPACE ALIENS, I mean, like, you know, if they have genders like we do, IS ILLEGAL!!" "I think Hill's right on this one," said former president Bill Clinton who was watching Secretary Clinton's speech on a television at a singles' bar. "I grew up with space aliens in Hope, and I even remember marching with aliens to protest the burning of alien churches back in the 60s. I feel their pain, I really do." Feisal Abdul Rauf weighed in saying, "You see, specism is an extension of Islamophobia. It is known that the galaxy is Sharia compliant, and so those who oppose Islam, believing rumors of its association with violence, naturally assume the worst of space aliens. In the Hadith, the blessed prophet urged us to join forces with space aliens so together we could rule, I mean, spread a message of love and tolerance across the galaxy."
Sheriff Arpaio is already facing a lawsuit from the Justice Department. In an interview with Chris Matthews, Attorney General Eric Holder said, "I have no idea what happened, and while I haven't read the Arizona law regarding immigration from space, I did read about it in the New York Times, so I'm pretty sure it's a bad thing. No space alien should live in fear of having his papers checked just because he looks different. Bottom line is we're gonna sue."
"The only good space alien is a dead space alien!" declared Vice President Joe Biden at a press conference. "I served with James T Kirk on the Enterprise, and let me tell you, I know these intergalactic creeps like the back – what? Whad'ya want?" At this point, Biden was conversing with an aid who had advanced to the podium. "I love aliens," resumed the vice president. My great grandmother was an alien. Where do you think I got this unearthly brilliant grin? Like the old Spanish saying goes: my atmosphere is your atmosphere."
Upon hearing about the arrest of the space aliens, Mazlan Othman convened an emergency meeting of the United Nations Office of Space Affairs to discuss the issue of jurisdiction over alien visitors. In the meantime, Sheriff Arpaio remains adamant. "They're in the slammer until we can get 'em on the next space ship out of here. If they don't like pink underwear and baloney sandwiches, then they'd better not come back."

Commissar_Elliott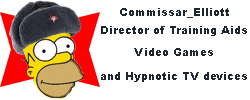 I find it hard to believe the aliens were off course. I mean, sure, it's possible, but beings, who like the Europeans, are superior to us, land off course? I would of picked either in the northeast or somewhere on the left coast. At least they would arrest me for landing there/ landing on some famous land mark.


ThePeoplesComrade

˙ɐɯɐqo ɯɐɯı uıǝssnɥ ǝɥʇ 'ɹǝpɐǝl ɹnoʎ oʇ ǝɯ ǝʞɐʇ ǝsɐǝld
Alien interpreter.
This rich text no paragraph thing is REALLY ticking me off!!!
Someone fix the darn thing!!!
Yes that is an order!!!

whitemaleheteropig
Illegal space aliens from the south side of the galaxy. Note the advanced life support sytems. Obviously an advanced race.
Here is the super-advanced "Terra-Rover". No doubt about it comrades, we can learn a lot from these aliens!

Che Nuevo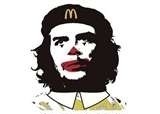 I am not an Alien! I am an exile! And there is a difference. Castro has been most disappointing with this talk of the revolution not working. But the dear leader in America has made my mind and heart melt with his promise of hope and change. The struggle against the evil slave pimps will continue.


DDR Kamerad

I blame the whole incident on the inefficiencies we inherited from the Bush administration!

Several months ago, the UN Office for Outer Space Affairs had been renamed from the UN Office for Outer Space Introductions and Kindness. We had a little kerfluffle from the Department of Animal-Fostering Thought upon discovery that "oosik" was an Eskimo word for an ornament made from a walrus schlong.

Our office in Barrow was quite amused, but when a visiting intern named Bruno started molesting the local walrus population, the D.A.F.T. comrades intervened, judging it best to change the name for the sake of animal rights.

In the meantime, the Society for Inter-Creature Kinkiness protested on behalf of Bruno and the rights of all other Walro-philes to molest blubbery amphibian mammals in peace.

The office's functionality got lost in the paper shuffle, and therefore our extraterrestrial guests had no idea who to turn to.


Shovel 4 U
These Specist Fascists will comb the desert until anyone who doesn't quite look like them is rounded up, arrested & tortured in GITMO WEST ™ and then completely humiliated by being deported in pink underwear stuffed with bologna with the lone exception of Code Pink which would no doubt enjoy it. Arpaio & Brewer must have had the Cheney (spit) gene implanted, it's the only thing that can explain this unsurpassed level of cruelty.

Laika the Space Dog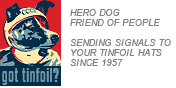 I keep receiving this signal from the aliens:

"Gort! Klaatu Barawwk Obama ixnay nikto 2012."

What could it possibly mean?


Komissar al-Blogunov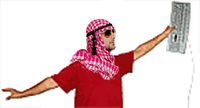 "Barawwk" is from a tonal language commonly used among domesticated fowl who are exploited by the American farmer against their will (very unlike in the old Soviet Union where all chickens were free range). We need someone fluent in Chickenspeak, both the old and new varieties to translate this message. I'll get to work on a small tinfoil hat and dipole antenna for RR.

Gulag 4 Alfred