Ivan the Stakhanovets


Captain Craptek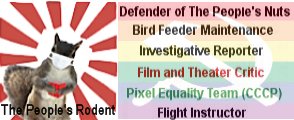 Ivan the Stakhanovets
http://www.zerohedge.com/news/2015-07-13/1984-comes-europe-end-freedom-speech-spain
Spain is modifying laws of speech and expression, Dear Leader (PBUH) is angry that he was beaten to the front of the line to do so.
White House staffers are looking for an appropriate replacement pen that will write faster.
Comrade Ivan,
As defined by item #12;
12. Digital protests: Writing something that could technically "disturb the peace" is a now a crime. Bloggers beware, for no one has yet defined whose peace you could be disturbing.
So, beware. Future remarks designed to offend my sensibilities will not be tolerated! Do not disturb my peace. Thanks for your cooperation in this matter.
Have a nice day.
CC

Ivan the Stakhanovets

We still have the right to our cartoon contests, although the cover charge at the door is getting a bit steep...