SpyMasterAnnaChapman
As The Peoples Cube's Spy-Master Anna Chapman, I hereby expose Ann Coulter's War on Womyn invoking "Conservative Maxims" to attack Sandra Fluke for demanding free pills and condoms as self-protection for Womyn in the Republican War Against Womyn:
~
What are my well-known credentials for rising to the defense of Sandra Fluke? You be the judge:
--Spy-Master Anna Chapman
.

General Confusion

Comrades,
I am unable to render a verdict at this time, I will need to make a detailed study of both photographs with a magnifying glass and attention to detail.
Before I know for sure if photochopping is involved.

A casual glance at photographs can be deceiving!
This may take all night!

REASON: illiterate fingers!

Infidel Castrate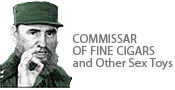 No comment at this time ... I think I have to go and molest myself first.


comrade crash&burn

I dreamed last night that I was being "disciplined" by Ann Coulter. In fact she was so rough that she spanked the Prog right out of me! I woke up and was on the verge of writing out a check to Mitt Romney's campaign when, fortunately, I regained my senses.

I will promptly report myself for re-education.


KOOK
A Report from the Front against the Republican War On Women:
All Progressives, and especially those in Hollywood, have ALWAYS fought against the sexploitation of womyn by Neanderthal Republican desires to keep womyn in the palms of their hands:
--KOOK