Reiuxcat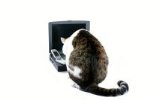 President-elect Obama wants a proposed economic stimulus package to include billions of dollars for infrastructure improvements. Mr. Obama maintains states have projects that are "shovel ready". The Missouri Department of Transportation says with federal money, it could start $510 million of highway and other construction projects within six months.
It seems the One® has already found a purpose for the so called "political misfits".
Will the first projects be building more gulags? There never seems to be enough for everyone.