embrace your guilt

Opiate of the People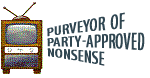 Comrade, perhaps your problem was you did not bring your cancelled checks verifying your donations to the Reid/Pelosi/Obama personal wealth funds campaign committees charitable trusts to help the inspector er... ah... assess your need?


embrace your guilt
Ahh yes, that is where I went wrong. However, if my senator was worth a damn he could have held out his vote for death panel free passes for our whole state!.


Obamugabe
What is a 500 yards long and takes Tylenol?
The line at the Obamacare cancer hospital.


embrace your guilt
That's a good one Obamugabe!. The pressure to make every sentence you write in this blog profound and clever is too much for me (lowly prole) to handle.


Leninka

These could be sold in hospital gift shops to offset the cost of building bigger morgues.


embrace your guilt
I can envision a whole new "designer death" industry (set up by Dr. Kevorkian ) where for the right amount of money you get a package of travel and other experiences to get the most out of life until the death panels pull your plug.