The Central Scrutinizer

EMBEDDED IMAGE NO LONGER AVAILABLE


Please take a moment to scrutinize this picture and notice the lower right (spit) quadrant. Is it, as I suspect, a rat in our Dear Leaders presence? No doubt trained,and sent by RACIST teabaggers, to upstage our Glorious Ones attempts to explain how HE will reign in the greedy and evil Wall Street Bankers.

Is there anything that members of the Esteemed Inner Circle can do to make sure those responsible will be dealt with swiftly and severely?


Fraulein Frankenfeinstein

Not to be worried. We, the glorious Collective, always have a "foot in the door" to the rescue!
(but, there must be an investigation to find out who let the rats in! Only one rat can be in the White House! . . .
no wait
, only dear Leader can be a rat . . . no. humm. Only Obama is . . . . . . . . oops, look at the time. Must leave for appointment!)

Jíbaro

DЭMOCЯAT ЯATS leaving the Obama Ship.


Comrade Putout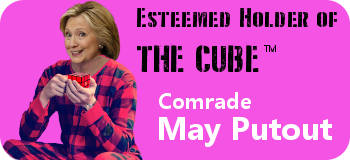 Jíbaro
DЭMOCЯAT ЯATS leaving the Obama Ship.

Red Square

Turns out, comrades, it was not a rat, but a MOLE!

I a bold PR move, Obama adopted this mole and named it 'Guaca' in honor of the visiting Mexican president.


Fraulein Frankenfeinstein

A MOLE IN THE WHITE HOUSE!! Sounds very serious.
(He should have named in Sandy Burglar)


Neotrotsky

rats.jpg Comrades, this is most troubling news today. It appears that some of our progressive congressional members are starting to distance themselves from Papa Obama. These traitors must be denounced !
Some Democrats keep distance from Obama
[indentr]Reporting from Washington — As President Obama's approval ratings sag and the mood of voters sours, some Democratic congressional candidates are distancing themselves from the White House, with the back-channel blessing of party officials.
The candidates are positioning themselves as independent voices no less frustrated with the Obama administration than people back home.[/indentr]