Colonel 7.62

Comrades, many of you are doubtless aware of the strange spiral seen in the night skies over Norway. Many of you have also doubtless heard it was caused by the failure of a Russian missile.
Now you hear the truth.
After many days of feverish calculations, and a power draw that nearly caused rolling blackouts in small midwest towns, a temporal tunnel was opened up between present day 2009 and the glorious early days of the Russian Revolution, circa 1920.
Various high level US Government officials, desperately in need of advice sought access to important Revolutionaries. After Chairman Obama discussed important state matters with both Lenin and Marx, we were still able to arrange for a meeting with Mao and Ho Chi Min. The tunnel collapsed before we were able to interview Marx, but we are working on a new tunnel.
Rest assured Comrades that your
increased taxes
, voluntary contributions to the Department of The Office of The Commissar of Time is money
spent on copious amounts of vodka, fine foods, drugs and prostitutes
well spent.
In Soviet Russia, wormhole open you!
Various staff members and scientists of the Time Travel Bureau under the authority of The Commissar of Time.

Opiate of the People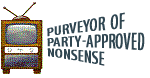 A wormhole, eh? Das iss good. This means all of Party Leadership will be eligible to use it.


Colonel 7.62

Can't have a Commissariat of Time without wormholes comrade Opiate. Hrmmm your questioning tone, showing ignorance of Party Approved(TM) wormholes is disturbing. Perhaps some mandatory voluntary viewing of The Time Tunnel, in all it's 1960's heroic glory will reacquaint you with the notion of wormholes and time manipulation. As well as he incredible ability of time traveling TV stars to wind up wearing the same clothes all the time, not suffer from paradox, and generally make even 60's TV audiences groan in agony.


Opiate of the People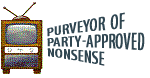 Gawd, Time Tunnel starring ubiquitous former teen-idol James Darren... this is a fate worse than having to wash Joe Biden's toupee while he was still wearing it. I must inform you that I am, in reality, a Guantanamo detainee and my lawyer says use of Time Tunnel on me is classified as an "advanced interrogation technique" and illegal under Obama law.

Still, in the 60s I partook of the first and only season of the similarly-themed sitcom "It's About Time" (starring Car 54 alumnus Joe E. Ross) without permanent ill effect (except for hearing that theme song in my head over and over... "It's about time, it's about space...") so I should be able to survive Time Tunnel. Maybe.

But if either of these two shows emerge from a portal in the skies over Norway, it can only mean the End Times are almost at hand.....


Colonel 7.62

There are no End Times. The Party(TM) has not planned for an End to Time. I have petitioned the Politburo to repeal the various laws of Entropy and Thermodynamics to ensure this cannot happen.


Opiate of the People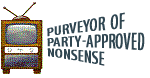 Gosh, this means that twelve trillion or so in accumulated national debt has a chance of getting paid off after all. The Party be praised.