dandytruman
EMBEDDED VIDEO NO LONGER AVAILABLE

Shocking OWS video footage: Union thugs caught on tape!


Krasnodar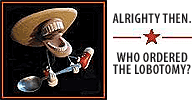 To Comrade Dandytruman ( aka " Nicholas Newfellow" , aka " Nickie Newguy ") :

Nice work !
I, Krasnodar, foresee a bright future for your skills within the Party.



And in the words of our Cube Leader, " Red Square ":

" You will be watched closely...very closely ".
( Don't make your offerings too good... remember what happened to Trotsky on his Mexican vacation. )

yuri trotynov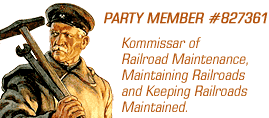 Comrade Dandy,
You must realize 'free' is a good price. In the State approved book of vocables and idioms, 'free' means generated out of thin air at no cost to anyone.
Ah, the days spending hour upon hour on que at the State store just to see what might be at the front of the que. Such memories. Might be bread, might not. Might be all left foot baby shoes. But this and so much more is supplied be the glorious State from where all things come.
I have only the State to thank for being able to contribute my 80+ hours a week to the railroad and even for my very existence. Shame should ooze from your every pore!