Komrade Koz
Think of it Komrades! A bright red burning fox wrapped around the world. It must be a symbol of the brave Laika! It clutches the world in its arms, much like we will once the revolution begins!

Laika demands you get Laika the Spacedog browswer.


Premier Betty

It must be a sign, PRAISE ALLAH!!


Komrade Koz
I also have realized another truth.  Like everything else in our brave new future, Laika the Spacedog brower is free!


Commissar_Elliott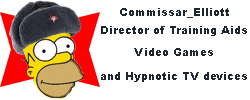 Now I can download it without feeling wierd about the Fox (News) part of it! It's in fact
Laika Space Dog
.