Grigori E.R.

The Obama administration is taking steps quietly to shut down the program that qualifies commercial airline pilots to carry firearms in jetliner cockpits in order to ward off another 9/11-type attack.
I feel safer already. For Lenin's sake, who thought up this nonsense? Pilots with guns? Oh that's right, it was Congress with a 310-to-113 vote after the 9/11 attacks.

Comrade Joe

Praise the Obamessiah! This is wonderful news! Such a sensible policy. I mean, it's not like the pilots already have the lives of all those aboard in their hands and are flying a potential weapons many times more powerful than a pistol.
Obama is getting so crazy it's not even funny anymore.

Laika the Space Dog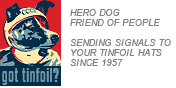 Comrades!

Somebody could put an eye out with one of those things!
It's For The Children™ so let The World's Biggest Child decide what is safe for all of us!
He Cares!
That's what is important!


Navigator

Could Obama actually be the leader of a war on America?
If he were actually fighting for America, surely Sen Reid would have exposed him by now?


Comrade_Tovarich

Comrades,

This is an eminently sensible policy. There's no telling what armed pilots, many suffering PTSD from military service and exploitation in the service of the capitalist imperialist war machine, might do. If you don't believe me, ask Non-Entity ex-Comrade John Kerry about US soldiers. Oh, the inhumanity!

We must learn from the tolerance of gun control advocates: the Second Amendment, until it can be abolished, means modern Americans should only be allowed to have the same unrifled flintlocks available at the time of the Reactionary War. In the same way, our pilots should only be allowed box cutters; however, the cultural implications could be detrimental to the feelings of Muslim-Americans, so perhaps being unarmed is the best policy.

The other day I took a domestic flight in my current nation of choice. I did not have to take my shoes off, and I don't think it is because I have stinky feet. It seems simply to be the policy here. Clearly, no guns are needed. Besides, they kill people, especially The Children™.