Ivan Betinov

EMBEDDED VIDEO NO LONGER AVAILABLE
This reactionary woman must be silenced! She has defamed the name of the One by comparing the BushHitler to him in a favorable manner!
Thankfully, the Heroic CNN spokesman was able to salvage at least something at the end of her unpardonable statement by belittling the fact that the obviously ignorant savages welcome ANYBODY that way...it wasn't that they
liked
the BushHitler.
Notice how Lemon jumps at 0:36 when she tells him it wasn't "unprecedented..."

Father Prog Theocritus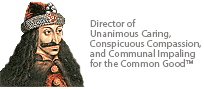 Betinov, you really must watch this. If it's on CNN, or in The New York Fishwrap Times it is out of the mouth of God. He did not jump on being corrected by someone who was actually there. The Official Truth(tm) has it that Dick Cheney was under the table stabbing him with a pencil. Which neatly explains his jump.

When was your last Jiffi-Lobo experience? Do you think it might be time?


Red Rooster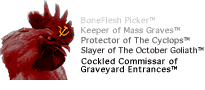 That's not what I heard Commissar, no it was Dick Cheney's bull dog that bit him on the balls at the behest of Dick Cheney, who happened to be spying on the producer in a men's room stall that was "busy" with a centerfold of The One naked chasing a unicorn through a rain forest. Which just happened to show up on Don Lemon's teleprompter the moment the bull dog chomped.

This explains the 36 second delay.


Ivan Betinov

My thanks to the more equal comrades in Visual Agitprop for properly embedding the video...the best I could do was provide the link.
Theo, I stand corrected.
RR, so it was "Cheney's bulldog...comin' home...to roost?"
I don't know why, but I just really get a kick out of watching Lemon set up the statement and then react when he didn't get the Pavlovian response he would have expected from an American journalist. Watch his facial expression as he sets it up: "Come on baby, I'm giving you a chance to swing for the fence here...tell all the world how special His Obamaness is, how the welcome ceremony was an ecstatic, spontaneous frenzy brought on by his sheer presence..." Then watch him almost pout until he comes up with the best save he can, that lame, "oh, well, you people welcome everyone that way."

Father Prog Theocritus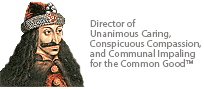 Betinov, I think that African journalists need to be educated at the Karl Marx Treatment Center to learn how to hate America properly. They just don't get it. Don't they know that everything is the fault of America? And they don't know that a journalist of the talents of Mr. Lemon would never have gotten there had he not had a post-doc degree in hating America.

It's so much easier than doing your job.


Red Rooster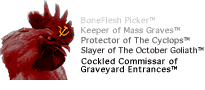 Great Lenin's Ghost!

I just watched this again and he still jumps at :36 seconds. When will our people korrect this fatality caused by the elusive Dick Cheney!?!