Komissar al-Blogunov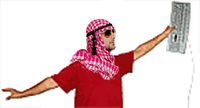 [justify]Comrades! Recognize this criminal! Under no circumstances should you or anyone whose reeducation you're concerned about watch this video! For the love of Lenin, don't do it![/justify]
[justify][/justify]


Commissar M

Oh... wow! This guy is about to be declared a "non-black person" by a bunch of greasy white lefty bloggers and pundits.

Uglykidjoe
That was the best characterization of what the real truth is I have seen. Good job!!! Not just good, excellent. You have got to get this word out to your commmunity. What you said was dead on, no bias, no animosity, just the truth. This is truly the product of research beyond what the 'main stream media' (libral) tells people (THE RESEARCH HAS TO BE DONE OUTSIDE OF MAINSTREAM NEWS MEDIA). More people have got to do the reseach themselves. The media (news) has become a showcase for the personal views of the owners and broadcasters on the station. The news is supposed to be an unbiased reporting of FACTS. These same people (by the way, white and rich) now feel that they are smarter than all of us and feel they are better, and more qualified to run the country, and are doing the best to make things the way they think it should be. IT IS NOT THEIR CALL, it is ours. Not only that, it seems that the the librals and the far left has made a very good living off of the hopes of the poor (Sharpton, Jackson, Frank, ect- none of these guys seem to be poor).


Cradle to Grave Marxist

<off>
I loved Alfonzo's machosauceproduction ever since Ann Coulter called him "My New Favorite Republican" on her website. Usually U-Boob won't let me rate his vids or add machosauceproduction to my subscriptions.


Commissar_Elliott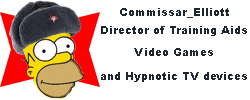 Fellow comrades!
This guy obviously painted his skin black, I mean it's pretty obvious he did, just look at his cheeks! As such, he's not black, but some evil oppressive white guy in disguise. . . an obvious cracker in black-eyed pea soup.

I declare we paint his skin permanently black and send him to a black neighborhood in Chicago where the Obamasiah will enlighten him with the Struggle of the African-American Community, like using Welfare and Food Stamps, Rallying with Jesse Jackson, declaring police brutality (even though our society doesn't have police, but MP), and realizing the oppressiveness of the rich white man.

(off)
I'm not one to watch YouTube videos of people just talking like this, but not only what he said but how he delivered it was a fantastic watch. Bravo to free minds like this, bravo!


Komissar al-Blogunov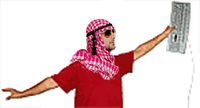 [justify]As far as the Party's concerned, he is to be considered as white as Bill Cosby, Condoleezza Rice, and Thomas Sowell. He'll never measure up to the stature of a true black man like Bill Clinton.[/justify]


Grüppenfürer Radnoskovich
Comrades, no re-education camp can hold him. The Obama must be informed.