Krasnodar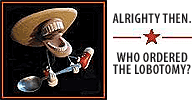 I'll keep this short.

EMBEDDED IMAGE NO LONGER AVAILABLE


It's just an image that came to me, Krasnodar, by way of a coffee-deprived stupor.


Shovel 4 U
Look how the common proles protect the "
Glory that is Dear Leader
"...

lumberjack


General Confusion

Comrades,

Let us hope dear leader is more skilled with a rifle than a bowling ball.


whitemaleheteropig
"I'm just as pleased as punch that the dimocrats finally have the keys!" Hubert Humphrey