Olga Photoshopova

Blind Item: The Journalist Who Cried Wolf*
There was once a young journalist girl who worked in a country that was in the midst of a dark political climate. Ideologically, there were few like her. It was rather lonely for her all day, so she thought upon a plan by which she could get a little attention and some excitement.
First, while working at the Pupils for Freedom Organization, the young journalist girl rushed down towards the village calling out "Wolf, Wolf."
"What is the matter?" the villagers asked. The young journalist girl claimed she was assaulted by a wolf at her Organization. "Tell us which wolf it was" said the villagers, "and we will all gather around to help you." But she never said who it was, and went on her way.
This pleased the girl so much that a little while later she tried the same trick, crying that Senator Allen Wolf groped her, even though there was no proof. Again, the villagers came to her help, and the girl slipped away.
The young journalist girl realized that by calling out "Wolf, Wolf," she could make her news reports much more exciting, and get attention for herself, resulting in more opportunities and book sales. She continued to use this trick of calling out "Wolf, Wolf."
Next, the young journalist girl went into the midst of a turbulent Occupy Wall Street protest, where police had been stationed to keep the peace. But the girl wasn't there to report a story, only to build excitement around her career. Her report was full of claims of "Wolf Brutality." The villagers were incensed, and again came to her defense.
This was not enough for the girl's insatiable appetite for notoriety. The girl approached a renowned actor, who was a promoter of environmentalism. During a crowded protest, the girl claimed that the actor "mauled her like a wolf," and everyone got angry at the actor. The girl's job there was done.
The young journalist girl continued on her way, leaving cries of "Wolf, Wolf!" in her wake, next accusing a TV show creator of "howling at me at a gas station."
Recently, the young journalist girl was pestering a presidential candidate as he wove through a large crowd. The candidate's guards repeatedly told the girl to go away. The girl felt indignant that anyone would tell her what to do, so she continued following him.
Finally, as seen on many different video angles, the girl was getting too close to the presidential candidate, separating him from his protectors. The girl was appalled as one of the group brushed past her, saying "excuse me" and touching her on the arm.
Turning to a fellow journalist looking to write a hit piece on the candidate, the girl said, "Did you see that?" "Yeah," he said. "He almost knocked you to the ground!" "Yeah," the girl replied, "he did! He almost threw me on the ground!"
With this idea expanding in her mind, the young journalist girl went home and fired off a story on her blog: "Member of candidate's Wolf Pack abuses women."
The media, who despise this presidential candidate, immediately came to the girl's aid. A narrative circulated, based off her blog, that the girl was "thrown to the ground forcefully." They encouraged the girl to go to the police and file a report. So she did, three days later, with bruises on her lower arm.
Suddenly, a new video surfaced, that shows the girl was not thrown on the ground after all, nor treated forcefully, but was touched on the upper arm. The villagers started to get annoyed, and questioned the girl's credibility.
Shortly after this, a Wolf actually did come out from the forest, and began to circle the girl, and she of course cried out "Wolf, Wolf," still louder than before. But this time the villagers, who had been fooled many times before, thought the girl was again deceiving them, and nobody stirred to come to her help.
The young journalist girl cried, "Can't you see? I'm a victim! Help me!" But no one cared anymore.
So the Wolf made a good meal off the girl's career, and when the girl complained about being jobless, the wise business developer of the village said:
"A liar will not be believed, even when she speaks the truth."
------
*Based off of Joseph Jacob's translation of The Shepherd's Boy (1894)

Comrade Stierlitz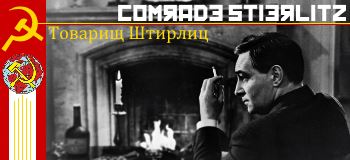 Komrade Olga, you ARE talking about the anti-state media and not our glorious Party-Approved Izvestia and Pravda, are you? Because if you aren't I'm gonna have to alert the Stasi.


trashmouth

Wonderful, Olga Photoshopova, it will be forever branded into our collective minds like a putting on make-up and issuing creative statements to the press.

Comrades, what a glorious time we are living in, where the educational assistance of the mainstream media offers candlelight vigils honoring not only current victims but a collective conscious of infinite propositional variables of thought in a conga line of precious deception.

Why just the other day Democrats not only celebrated those who lost their lives and elections over the last few years due to Republican dirty tricks, but were willing to openly rejoice with the Palm Beach County State Attorney who is leading the charge against Trump's campaign director.

Palm Beach County Attorney, Dave Aronberg, is part of the glorious Hillary Clinton's Florida "leadership council" and a good donor in standing who will play a center role to prosecute destroy the campaign! While his office shut off any questions about his political stance as "inappropriate", we all know that Democrats have regained their momentum and this incident will not only allow them a lot of valuable material for their campaign commercials that real progressives have always created wanted but continue the valuable smoke screen for our political class of, spit, spit, both parties.

Unfortunately, a lack of real footage of the incident would have gone a long way towards creating the narrative to demonstrate just how low Republicans will go just to save American's future. We can only pray hope that the nation will continue to focus on all debris cast about by the mainstream educational assistance fund to keep the never ending effort to destroy hope and enthusiasm for any Republican candidate as well as America's future that Barack Obama has worked all these years to crush.


Red Square

This reminds me of another fairy tale - Michelle Fields starring as Red Riding Hood. What are the chances she is now shopping around, selling movie rights to her story?

Captain Craptek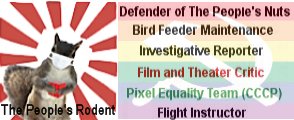 Red Square

Captain Craptek
Michelle Fields Evacuates Apartment After Fox, Buzzfeed Accidentally Publish Her Address
I'm sure Michelle Fields is not
a compulsive liar and a hoax artist, otherwise they wouldn't parade her on ABC News - or dedicate an entire issue of Poor Me Magazine to her story.