Father Prog Theocritus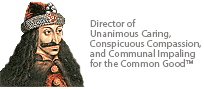 Elliott, I'm a prog, man. We were staying at the Roachway Inn, the closest hotel to St. David's in Austin, so the towels weren't really worth stealing. I've stolen lots better towels from better hotels. Why stay in a place unless you can get at least 20% of the room cost back in theft?

I learned this from government service, but they kicked me out because I said that 20% was enough and they thought that 95% might do, in a pinch.