Mikhail Lysenkomann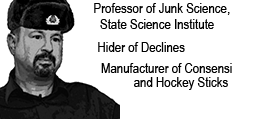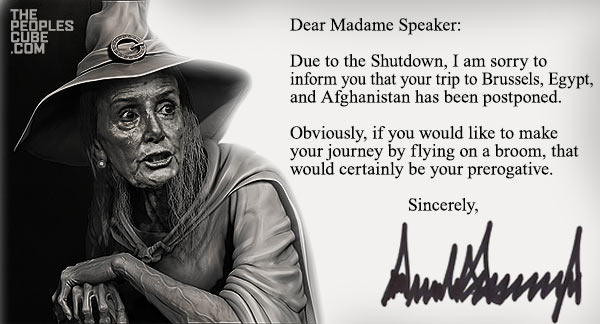 Even someone as Evil as Donald Trump can be right once in a while, even though he's still wrong.
News has reached us here at the State Science Institute that the Evil Trump has taken one small step to curb Global Warminsk:
President Trump Helps Nancy Pelosi and her Fellow Democrats Reduce their Carbon Footprints
I am sure you will all join me in commending President Trump for helping Nancy Pelosi and her fellow Democrats avoid the hideous carbon cost they would have incurred, had they used an airforce jet for their world tour.

House Democrats no doubt deep down appreciate President Trump's reminder of their climate responsibilities; Nancy Pelosi and her fellow Democrats believe that climate change is an existential crisis.
Let us give him credit where credit is due. It
may
will be the only thing he does right before he is impeached for colluding with our Comrades in the Motherland.

Red Square

From the interwebs...

$.$. Halliburton

And obviously her flying attack monkeys need no flight accommodations.


Red Square

DUFFEL BLOG: Troops in Afghanistan heartbroken after Speaker Pelosi's visit cancelled
BAGRAM AIR BASE, Afghanistan — Service members currently deployed to Afghanistan were devastated when they learned that Speaker of the House Nancy Pelosi and her entourage of congressmen had cancelled their planned visit this past weekend, sources confirmed today.
President Donald Trump halted the congressional delegation's trip seemingly in response to Pelosi suggesting the president cancel or delay his State of the Union address, citing security concerns. The bus filled with congressman was stopped at the way to Joint Base Andrews where military aircraft were prepared to carry the representatives to Afghanistan.
"It's terrible," Staff Sgt. Paul Morin said. "They were going to cancel the vehicle inspection so we could all go shake her hand for six seconds, but then we had to clean all the vehicles three times."
"It's a shame," Sgt. 1st Class Mark Klages said. "Morale has gotten get pretty low around here with the holidays being over, the awful weather, the ANA's incompetence and our confusing strategy, but it would have helped a lot to be talked at by an old lady from San Francisco."
MORE GOOD STUFF HERE >>
https://www.duffelblog.com/2019/01/troo ... cancelled/

$.$. Halliburton

Oh, oh, oh!
No one is bringing up Pelosi's abuse of her privileges when she was speaker the first time around.
This was big news back then. From
Judicial Watch
back in 2009:
CLICK ON THE IMAGE TO ENLARGE