F.A.R.C.-EP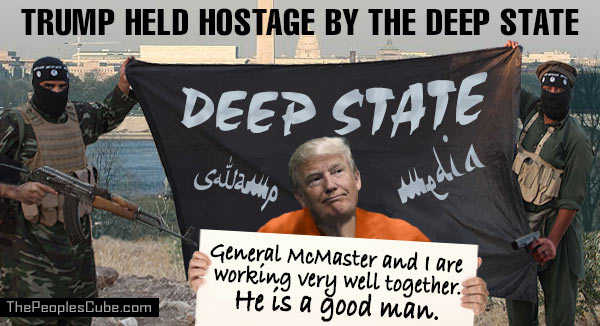 Early on Friday morning, a message was written by the people holding President Trump hostage. It reads as follows:
"General McMaster and I are working very well together. He is a good man and very pro-Israel. I am grateful for the work he continues to do serving our country."
So let's look at this ransom note - I mean, written statement. Who is this McMaster guy, and what is the meaning of his praise and other assertions? We need some people with ransom-note analysis credentials to get to the bottom of this. What does the statement
actually
mean? These questions are above my pay-grade; we must leave them to the experts.
Expert opinion:
Before we get into the fact that President Trump used a written statement instead of a tweet, we must ask ourselves; how did we get here? Why would the DC Swamp be so mad at Trump that they felt forced to take him hostage?
Is it due to the record high stock market, going up since his election? Is it due to the near record low unemployment number? Continually falling trade deficit? The fact that Trump has removed the US from so many MULTI-lateral agreements, and is now instituting BI-lateral agreements?
Right off the bat, TPP is gone - and so is the Paris Climate Accord, which would have surrendered all future economic growth and expansion to China and India. These moves made by Trump have indeed strengthened America, but he's sent some really mean tweets along the way, so he is unfit and should be destroyed.
In the book of the deep establishment, Trump wasn't supposed to win. This means the "deplorables" have somehow gotten out of control. Despite the media's best efforts, their strength and numbers continue to grow. Trump still gets thousands of enthusiastic supporters to turn out for rallies, even after eight straight months of non-stop negative attacks from the MSM. This remarkable development exposes the MSM's ineffectiveness in the modern-day information warfare.
Our final analysis will have to wait, but we see three possible outcomes in this hostage crisis:
1. The DC swamp negotiates for Trump's release.
2. The DC swamp consumes Trump.
3. Trump escapes unharmed.
Suggested Reading/Research
: General Smedley D. Butler "War is a Racket" The Morgan-Coup against FDR

Captain Craptek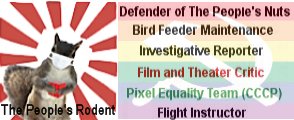 Major Ursa Vitnopants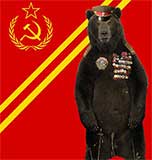 That chair rocks!


Hammer and Loupe

Major Ursa Vitnopants
That chair rocks!
Silly old bear!