Grigori E.R.

Happy Thanksgiving Comrades
Fraulein Obamski
Comrade Grigori,
and may the happiest of equality befall your family on this government glorious day! (Keep it under the hush hush... but I'm not sure how I like being our leaders turkey. Tis a bit, pensive...
oops....
Heil Obamski!!

Grigori E.R.

Comrade Fraulein,
To paraphrase an old TV jingle; "Sometimes I feel like a Turkey, sometimes I don't".
Anyway, Re: "oops.....". Not to worry. The Thought Police are way too smashed by now. Their Vodka rations are doubled on Holidays.
Speaking of Turkeys:
Our beloved
Commissariate
Senate has been preparing a wondrous feast for the American public. They've been stuffing the Health Care Bill with billions of dollars worth of Pork. Included, of course, is $300 million for Commissarka Mary Landrieu's home state of Louisiana. It's such a shame the feast wasn't ready for Thanksgiving, but they're working overtime to have it ready for Xmas!
The Beast of the Feast-
Introducing the Torkey (any suggestions?)

Red Square

From
BigFurHat

Commissar_Elliott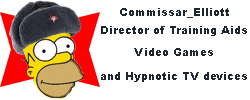 Anyone else enjoy their Party approved all organic, tofu turkey? I ate mine in equal sizes amongst those who ate with me.

(off)
I enjoyed it with my family, and ate till my stomach bursted.

Happy Thanksgivings Day everyone! At least what is left of it (Original post time: 23:56 CST).