Panem Et Circenses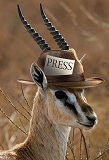 Heh heh - someone is going to be disappearing over this one - I learned the hard way (don't ask - I still get infections from it) to
never
,
never
print unauthorized truth. I'd bet this week's vodka rations that one of the last things this poor fool ever hears as justice is administered will have something to do with "backdoor".
Backdoor taxes to hit middle class (story withdrawn)
http://news.yahoo.com/s/nm/20100202/bs_ ... kdoortaxes

Commissar_Elliott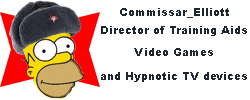 Smells to me like someone was trying to go out with a bang, that or trying to get through our great curtain of iron that is our stranglehold on the internet and the media.

Carry on Panem.


Comrade Whoopie

Next time you see that guy he'll be doing a live feed while wearing a rain slicker and standing out in a class 4 hurricane.

I suspect in an hour the story with reappear with a new headline "Revenue enhancements to benefit the middle class"...I've seen this happen before with AP wire stories.

UPDATE:
Apparently the story was pulled by Reuters under pressure from the White House.

The story was about how the expiration of the Bushitler era tax cuts would raise all tax brackets, even those for people in the lowest bracket.


Blackmarket Citizen

Comrade Whoopie
Next time you see that guy he'll be doing a live feed while wearing a rain slicker and standing out in a class 4 hurricane.
operation code name: backdoor slammed shut
status: in process
notes: actually this operative has been re-ASSigned to cover our peacemaking efforts overseas. he is currently quality control tester for the butt-bomb dept. in afghanistan making sure every product has a correct fit and smooth insertion. upon completion of this self-discovery ASSignment, and after receiving state issued kneepads, he will be stationed at the whitehouse salad bar, tossing dept, for an undisclosed period.
heads up to all operatives; NO UNAUTHORIZED TRUTH.
reporting agent: blackmarket citizen - the peoples black op

Fraulein Frankenfeinstein

More for the gulag!!! (I'm sure there will be a call for waterboarding for this unauthorized citizen)


Opiate of the People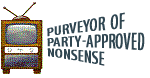 Comrade PEC, I am reminded of a parable from the progressive bible, "1984", when the benevolent government decreased chocolate rations from 30 grams per week to 25. True to his journalistic oath, comrade newscaster announced that Obama Big Brother raised chocolate rations to 25 grams per week while a small army of historians scrambled to correct the history books so that they would indicate the proper old level.

I thought of this passage as I was tut-tutting to myself about the lack of professionalism that Comrade Reuters showed today. Things were so much easier in the old days when the NY Times determined the agenda and CBS, NBC and ABC followed their lead. Today the number of "news" outlets has multiplied to such an extent that it is impossible for the government to keep track of what they are saying; how is a prole supposed to know what he is supposed to think? What's next, is some idiot going to blurt out that AGW science is incorrect? Disgraceful incompetence!


Panem Et Circenses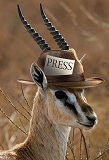 UPDATE
The article has now moved from Phase I "Withdrawal" to Phase II "Does not exist"
I see the professionals have moved in to clean up this mess, thank Lenin. Notice the use of an extremely long, incomprehensible link to it. Nicely done. It warms the heart to see true professionals at work, doesn't it?
http://search.yahoo.com/404handler?src= ... kdoortaxes