Statist-in-Chief

Here is Part II of the series. There might be a Part III, so, stay tuned.
Part I here
.

Statist-in-Chief

[48] 14 Corpus Juris Secundum 426, 430


Red Rooster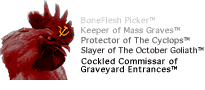 Just disgusting comrade! Who would spread these kapitalist lies!?! You have done a service to The Party comrade, digging up this debauchery must have been no easy task.
Hail Obama!
Read both your posts.
Thanks
. Now please excuse me, I'm going for a ride.