R.O.C.K. in the USSA

Dateline Washington DC, June 4, 2012 - AP (Associated Potatoes)
The United States congress today was rescued by quick-thinking staffers when a pipe burst under the men's room and
a urinal exploded
- capitol police officers, gallery staff, and other U.S. Capitol personnel immediately utilized stacks of old newspapers, magazines, the Constitution, and other periodicals, as makeshift sponges and sandbags.
"The US Constitution hasn't been in use for years, so we grabbed it along with the old newspapers and stuff to soak up the mess," said capitol staffer Jimmy Joe Johnson, Jr.
President B. Hussein Obama is considering awarding the Presidential Medal of Freedom to all who participated.

bringsdogtowork
How fortunate that Kongress has thousands of pages of unread bills (such as Obamacare) immediately available to sop up bilge water or use as TP.


R.O.C.K. in the USSA

Exactly, Comrade of the Working Dog Ownership Partnership - I am sure that it had been getting on the collective progressive nerves of DC-ites for a long time that all that wasted paper wasn't being properly recycled, and this "opportunity" will surely open the door to much healthy environmental cleanup. Why, just think of the Library of Congress, with all those tomes written by dead white slave owners just lying around!


Apparatchik Unkulturny

Our collective has closed all restrooms in our barracks dormitory comfortable dwelling area and workshops in solidarity with the Members of The Peoples Kongress who were inconvenienced might have been seriously injured due to the exploding urinal in this plumbing leak natural disaster.

[Just sayin' providing advance information to those who have been ordered to are thinking of visiting our collective: Don't have any delusions notions of convenience or privacy.]


Father Prog Theocritus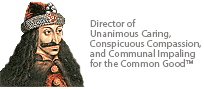 Have all of you comrades forgotten Farhenheit 451? The Bradbury story, not the movie by the sainted Michael Moore. Burn that paper. Burn it. The only reference we need is e-paper, and it's valuable because it's so easy to edit. As the old Soviet encyclopedia would have updates--new pages and a razor to excise the old ones with the people who have become unpersons--this one updates overnight.

The Constitution suddenly has no second amendment. Then no first amendment. Then no fourth amendment. Then no fifth. Then no tenth.

Then there is no Constitution, but a concordat between the governors and the, er, public-employee labor unions. There is no reason to try people's patience by making them fret about a moldy old rag of paper.


Apparatchik Unkulturny

Father PT
is Exactly Korrekt:
History Belongs To Those Who Invent It
! Just
forget
those old
outmoded, outdated
"facts
"; instead
We March Into The Glorious New Future Of Next Tuesday
! And
NOTHING
will stop the
FORWARD
movement -
unless Criminal Gov. Walker overcomes the

Glorious Heroic Peoples' Recall Movement

today
...

R.O.C.K. in the USSA

Comrades, let's be real here - the vast majority of Publik Skul and Youniversutty graduates don't know those "facts" anyway!

As Comrade Unkulturny has so rightly stated: We March Into The Glorious New Future Of Next Tuesday!


Father Prog Theocritus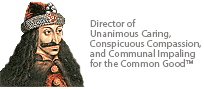 Comrades, these rheumy old prog eyes are watering up now. I feel so vindicated, having helped to raise two proglets such as yourselves into complete nastiness.

I ache, comrades; I feel pain. It's the pain of an old prog whose back has been broken stealing cases of Bollingertoiling in the beet fields. When Katrina hit, I was stealing Cadillacs with cops in New Orleans and giving ammo to the snipers shooting the aid peopleorganizing the relief efforts, throwing out my back filling sacks with sand to keep the waters out of the hoods that the Boosh administration had neglected by not giving them everything that they were too lazy to work for.

Oh. Did I say that out loud? What's the matter?

Bruno. Bruno! WTF? Have you been playing with the sodium pentathol again? Bruno? BRUNO!


Father Prog Theocritus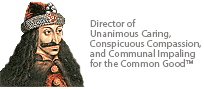 Oh, comrades, I am undone. I told the truth.

Forgive me, Stalin, for I have sinned. I told the truth. It is my fault, my grievous fault, but I told the truth.

I know that the truth is what we say it is, because reality is what we pull out our asses. I learned that from Paul Krugman who has the most fecund ass on earth. He can pull entire alternate universes of reality out of his ass, and do it all before breakfast.

Dear Paul. He could lick a canine and chase a lamprey eel down a toilet.

Still, I told the truth. Mea culpa, mea culpa, mea maxima culpa.