Hammer and Loupe

OLYMPIA, WA - From groceries to luxury items, every purchase outside of Washington is a loss of tax dollars. As Governor Inslee has found out, when people purchase items out-of-state, that diminishes businesses within the state, and
no one is paying the use tax.
Unable to pass a protectionist bill through Congress, so once again he is using his phone, pen, and the state Transportation Department to get things done in the state of Washington.
From now on, everything purchased in another state will be confiscated by Washington's Department of Transportation (DOT) at the point of entry through the border with Oregon or Idaho, to teach the population not to buy out-of-state products (with the exception of Canada).
In order to prevent smuggling products into the state, Governor Inslee has created his own state border patrol, which will stop any unauthorized influx of items such as Idaho potatoes, Oregon bicycles, California wines, Hawaiian shirts, Texas instruments, adopted pets, orphans, planes, trains, automobiles, boyfriend, girlfriend, friends, hats, sunglasses, rock hammers, loupes, bruntons, and many other things procured outside of Washington.

Lev Termen
Sounds like the People's Commonweath of Taxachusetts and their periodic crackdowns on "imports" from the Free State of New Hampshire.


Comrade Abrakham Linkol'n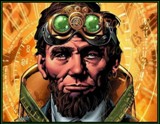 Comrades,
The independent colonies fought a revolution, well actually two revolutions four score apart, over these types of money and tea or cotton tariff or tax issues. It has been settled once and for all, well not settled and it actually is just half-time...........screw it, you get the message.

So, for at least a score or so, the District of Candyland will control these types of things. Hundreds of thousands of young souls gave their all to keep coins flowing into that glorious Centralized star on the Potomac.

Therefore, get over it.

That is all.


Hammer and Loupe

Woah Comrade Abe,

Let us not get ahead of ourselves. We need to slowly introduce these things to the populace through education and insignificant measures.

As they say, throw the frog in the boiling pot, and it will jump out. If you introduce it in room temp water and bring the water to a boil, then the frog will not jump out. These capitalists frogs are most likely to stay here when they do not know what is going on.