Red Rooster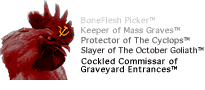 We Are Here To Help --
Red Dawn
at The Peoples Cube
http://www.reddawn2010.com/
Original Poster

Gulag 4 Alfred


ThePeoplesComrade


The Red Terror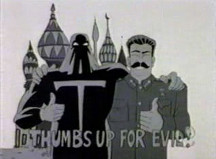 I'm worried about the Red Dawn kerfluffle...their site didn't seem very freindly to our cause. I found this tucked away in some files...
I, as a loyal party member, denied everything and called them racists. Then I got the hell outta there. Maybe Comrade Kim Jong Irrin' would like to comment on this?

General Confusion

Comrade,

As well intended as it may be, the correct name for this site is "Red Yawn".