Kommissar Vodkov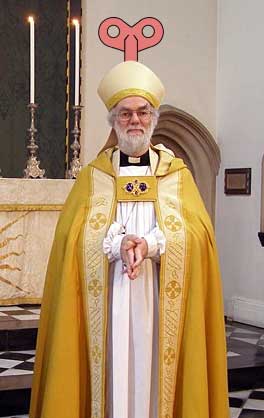 Our new puppet, comrade Williams
---
Comrades!
As you know, our useful idiots form the backbone of our glorious class struggle. Unfortunately we have come to take them for granted. When Bono, PETA, Angelina Jolie, the ACLU etc do something stupid, it's for the benefit of the Party™. We think nothing of it. Just them doing their duty for the Greater Good™.
But it's not every day we acquire a brand new useful idiot! This has now happened and we should celebrate. I'm now on my second bottle of Vodka and I'm drunk with joy!
This unholy organization which has resisted us from the beginning, supplanted our ideology with degenerate values of "family" and "hard work" and supported Western imperialism for millennia has finally joined us! Ohh rejoice! You know what I'm talking about! Yes comrades…
The Church!
Grab your bottles of the People's vodka comrades! It's the time to celebrate!

Premier Betty

Man, who doesn't love Sharia law?
<off_karakter>
I prefer the teachings of
Dr. Gene Scott
.
<on_karakter>

Komrade Zarkof
Excellent choice for a new Party puppet!
He embodies the Guilt and Shame of the West in it's treatment of our Muslim brothers and sisters. With Comrade Williams leading the way, the ritualistic opiated Western masses will soon repent of their Vile treatment of Muslims. I'm sure Comrade Williams is more than happy to give them a helping hand or even a head!


Commissar M

Bah, Rowan has BEEN a useful idiot for years. Sadly Happily, the American presiding bishop, Katherine Jefferts-Schori*, is even MORE useful and a bigger idiot. ECUSA is little more than a Party organ now and the Anglican Church, while more subdued, isn't much better. Any lingering Chistianity merely serves to opiate the moneyed old farts hoping to die as members the churches they helped sustain and build.

Why repress the Church when you can simply rebuild it as a tool of The Party?

*Hyphenated in the name of The Party and The People.


Marshal Pupovich

Progressives world wide celebrated the news.... alas I suspect the reactionaries will force him out however.


Navigator

Is the key used to tune a G-string or to wind up Comrade Williams?
The photo strikes a chord with me.


Premier Betty

What? G-string? Where?

<looks_around_excitedly>


Rikalonius

Commissar M, you have to make sure you emphasize that hyphen. Katherine Jefferts-Schori. You can't go around pronouncing Mother Jesus' name incorrectly. After all, in Kay Jay's world view, a man will not leave his father and mother and be joined to his wife, and the two shall not become one flesh. Rather she shall keep the autonomy of her given name. In her more progressive than thou Bible, the verse reads: A man will, though he will not be coerced by outdated notions of manliness, leave his father and mother; or two mothers, two mothers and a sperm doner, single mother from the ghetto, or any combination thereof, and be united in civil union, with his, or her if he be trans-gendered, wife, husband, or life partner. And the two, or three, or many, shall become whatever they so define for themselves so long as they recite ad-naseum the platitude of love.

have a feeling, when our Empress finally takes control of the Kapitalist Amerikkkan government, that Kay Jay will be our Empress' spiritual adviser. Like Cardinal Niemoller, she will lay the freedom of the church at the feet of the state, so long as they allow her to be it's figure head. Which our benevolent Empress will, until such time as her usefulness is expired.

Rick


Commissar M

Damn, how unenlightened and unprogressive of me to forget the hyphen. I will correct my egregious and sexist oversight, then lay the blame on G.W. "Chimpy" Bushitlerburton for creating such a christo-fascist, bigoted and hateful country where such slight could occur.

KJS is a wonderful example of the Progressive Reformation taking place in all aspects of society. (Oh and never mind all those Episcopalians bailing out on her and the church. They're just hate mongers anyway. Of course, they really DO need to leave their money, property and the fruits of their hard work behind if they're going to leave the church.)