Fearless Leader
Comrades,
This is a Red Alert! Already many Americans are seeing though our loyal media's efforts to convince independent Americans that information gleaned by the evil Bush 43 via waterboarding of misguided al Qaeda operatives and leaders played no role whatsoever in the nearly ten-year effort to connect all the dots to locate Osama bin Laden a.k.a. Usama bin Laden in Pakistan.
To make matters worse, despite our media's similarly loyal efforts to protray my decisiveness in having been willing to act unilaterally in ordering our Special Forces SEAL team to kill bin Laden without first notifying the Pakistani government, other
media normally loyal to us (for example, the Guardian) are reporting that by agreement between the U.S. and Pakistan in 2001 through the evil Bush and the evil Musharraf, Pakistan agreed for the U.S. to "act unilaterally within Pakistan" to take-out bin Laden whenever the U.S. were to be able to identify his location in Pakistan
.
These two developments are contributing to a campaign that appears to be gaining widespread traction amongst the "independents." What campaign? It's the "VindicatioN" campaign.
To make it even worse, it appears that bin Laden was attempting to sabotage me with his dying breath because there are persistent rumors being reported that the last words of Osama bin Laden a.k.a. Usama bin Laden before being shot by the SEALS were: "I'd rather be waterb ..."
We must stop it-- otherwise, people may conclude that I'm a strong leader only when I emulate the policies of George W. Bush.
We must write letters to editors, fax our Senators and Congressbeings, send emails to everyone we know, create agit-prop artwork, etc, etc. to counter this "VindicatioN" campaign.
--Fearless Leader

darski

@ Dear Leader... I'm afraid there are not enough beet trucks in North America to push this tamale off the road. Better get some practice a beet-pulling. I see a real job promotion for you in agriculture.


Commrad Vilhelm
Dear
Feckless
Fearless
LoseR
Leader,Just like I was there in Moscow 1993 with my tank battalion, I will be there again in Washington to
persecute
protect you should the plan to socialize Amerikkka fail.

Grigori E.R.

Got you covered Dear Leader. I set the record straight with my Commando In Chief post. It's getting to be like you are Rodney Dangerfield or something. You never get any respect, no matter what wonderful things you do.


Sugar Daddy Bear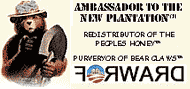 Fearless Leader,

I think I might have a solution to this dire dilemma. Even though the eevil Bu$hitler did all the heavy lifting to make this assault possible, we have continuously heard over and over again--for 8 long years, mind you--about how incredibly STOOPID he was in just about everything he did or touched. Your superior intellect and brilliance over the Bu$hitler's constant bungling can be made evident just by your proclaiming of a "smarter" war against peace-challenged wayward mooslims. Bu$hitler never got bin Laden because he was STOOPID; couldn't do anything right.

Your superior skills in community organizing, sounding 'intellectual' thanks to your expert teleprompter skills, being well-spoken, having friends and associates like Billy boy Ayers and Rev. Wrong to guide you through the murky swamp of Americanism, and of course, CLEAN, were really the imminent downfall of bin Laden. Who can compare?