Comrade_Tovarich

In my never-ending quest to right the wrongs of the Right, I suffer the indignities of such vitriolic articles as this one: "
Big New Journalism Idea: The Hate Beat
," which was evolved from
this article
by an enlightened journalism--sorry, truth-worker--professor. This all got me thinking that what We need is a magazine aimed at the young and impressionable, something hip and groovy and progressive:
ProgBeat
!
Maybe you've been fortunate to read a
TigerBeat
or the band info on the LP version of
In-A-Gadda-Da-Vida
to know what's needed: pics of cute progressive guys and great descriptions.
Quote:
"Meet Timmy, a def deaf 16-year-old who lives on the streets of Seattle. When not mainlining FairTrade organic heroin refined by authentic ethnic Afghani Taliban freedom fighters, he likes co-existing with Nature by surfing on endangered whales and sleeping in leafy parks, dumpster diving to recycle, queueing and serving in soup kitchens (to get both sides of the story), quoting Dr. Al Gore, cutting and piercing himself to protest the need for free health care, pickling his own pickle, panhandling in the eco-bling capital of Vancouver (Canada), picking (but not pickling!) groovy mushrooms, Obama tattoos, and alternative girls who believe in "spreading the(ir) wealth (and legs) around. If you've got a nipple ring (or two or more), give Timmy a ring!

The Man has been doggin' him for a couple of eco-missions and actions at anti-globalization protests, but he'll consider it a FairTrade if you send him a one-way ticket from the subsistence pound to your heart via Greyhound. And who couldn't resist those puppy-dog eyes?"
Comrades, do you see the need? When our journalistic organs get their financial Viagra, it would be unfair, unAmerican, unpatriotic, and unUN to deny funding for
ProgBeat
! After all, it's For the Children™.

Lenin 'n' Things

Yes, we need ProgBeat.And it should be edited by Pinkie. i think i remember her mentioning somethig about tigerbeat in another thread. She would give this magazine a fun and up-beat treatment.


Red Rooster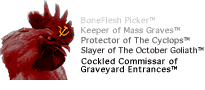 An excellent idea. Nice to see you again, Comrade Tovarich!


Ivana Tinkle

ɐɯɐqo uıǝssnɥ ʞɔɐɹɐq
Perhaps an article in ProgBeat can investigate this strange yet inspiring phenomenon that has occured with the Dear Won.


Comrade_Tovarich

Comrade Ivana Tinkle,
While not Minister of Information and Publications, I had assumed every issue of
ProgBeat
would include Dear Leader as the foldout. Yes, he's older than the target demographic, but so were all the great progressives, like Stalin, Mao, and Pol Pot.
Consider his manifold attributes:
He's He
He's American but only half so
He's multiracial
He's devoted to the Party
He's full of it yet utterly empty
He's probably metrosexual but willing to change with the times
He's got the attitude of a nose-pierced teen veiled behind an elegant exterior
He's ready to say sorry, even if he doesn't mean it, to get what he wants
He's rich enough to buy you everything you want, with money that's not his
He's got the ability to put you (and me) in jail