Colonel 7.62

Comrades, this was simply too good to pass up. Three Olives Vodka is running a campaign entitled "
What's your O Face"?
The play on words and double meaning opens up all manner of Cube induced hilarity. Perhaps a more equal comrade can make some "O-Face" inspired art...

Red Square

The only possible winning entry: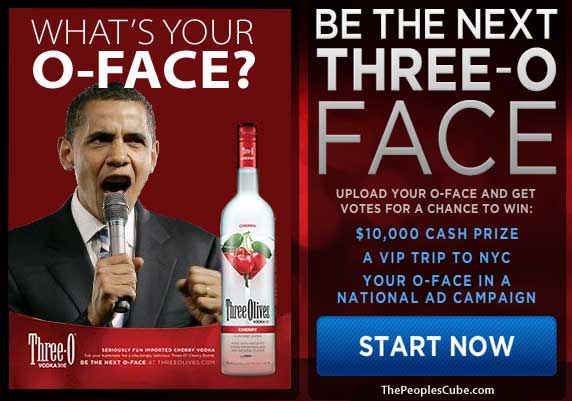 Gulag Man
Why is angry black man eating microphone? Is good like beet?


Comrade Whoopie

Comrades, I have a couple potential entries, but I doubt if the makers of the People's Distillate would approve. Perhaps some of our inhouse artiste's could find use for them.
Ok, I'll admit the first one was edited, I removed the hotdog he was eating. But the second is an unguarded moment when he was talking to a group of future
proles
voters (aka: grade schoolers).

Commissarka Pinkie

Am I the only one here with a dirty mind, or did anyone else think of the 80's song "I'm Turning Japanese" upon seeing the words "O Face" in the subject line of this thread?

And what's with the car commercial I've been seeing lately (can't remember which manufacturer now) who offers not 0 percent financing, but O percent financing?

And why, when I went out this morning for donuts (O-shaped pastries) did I ponder what was up with the billboard that said, "Yes, You Can Cun!" (as in go to Cancun, Mexico)--and the two C's were so curlicued as to be easily mistaken for stylized O's?

O?


Colonel 7.62

Comrade Red Square, I believe you are correct in that you have the only possible winning entry.

Does this mean you will gain a large supply of vodka which will need to be redistributed among the collective?