Ivan the Stakhanovets

Less progressive than USSA, India is denying reproductive rights for men using camouflage and subterfuge.
Legal Researchers in India are still debating the humanity of use of the "booby-trap."

Hammer and Loupe

What a shocker!


Komrade Katz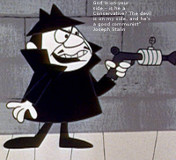 Pamalinsky


Lev Termen
I am fully supportive of free birth control for all liberal comrades and comradesses! The more birth control, the merrier! Compulsory sterilization for Democrats! And let it be forbidden to all (spit) conservatives and Rethuglikkans!

Then in 100 years, let's see what philosophy dominates the population.