Superkommissar Maksim

Breaking: Here's what we know about Pennsylvania right now
Quote:
Tonight we spoke with a friend from Hillary Clinton's campaign who is now working for McCain/Palin — and is specifically working with Democrats for McCain in Pennsylvania. We worked with her in Texas, Indiana, Ohio, and Pennsylvania for Hillary and have spent many LONG hours with her in the trenches in all of those states. She's smart, doesn't BS, and never lies.

She says the same thing we do: John McCain will win Pennsylvania.
Quote:
What's happening here that's not being reported is that "Reagan Democrats" who vote Republican whenever they feel that Democrats are out of touch, socialist, or too liberal are voting for McCain…and these people are being joined by PUMAs, DeMcCrats for McCain, Hillocrats, whatever you want to call them, who don't like or trust Obama and who believe McCain/Palin would address the wants and needs of centrist Democrats much better than Obama ever would.
Quote:
DEMOCRATS are staffing McCain offices across the state. DEMOCRATS are phone banking and canvassing for McCain. DEMOCRATS are raising large sums to fund this last week of campaigning.
READ ALL
Its mostly anecdotal so I'm not sure if I believe it. None the less its does give me hope.

Chairman M. S. Punchenko

Here in Virginia we are having McCain/Palin yard sign shortages. All you see in Central VA -- and parts of Richmond -- is a sea of McCain/Palin yard signs and bumper stickers on cars. I have never seen such grassroots enthusiasm... not in 2000 and certainly not in 2004. Every local HQ -- even in deep blue Petersburg -- is running out of McCain gear.

Keeping my fingers crossed.


General Mousey-Tongue

(Karakter Off)

I was hoping for word of this...thanks, Maksim. I don't buy the 'Obama sweep' meme throughout the press, it doesn't smell right, and the behavior of their campaign and candidates bely much more concern than would be the case if he were easily riding to victory. He is still pushing a prevent defense, which tells me the tide is continuing to shift towards McCain.

That old fighter pilot is at his best when the pucker factor is high and odds are less than even for a win. As we have seen in the summer meltdown of Obama and his campaign, when his numbers aren't good they all come unglued. I hope to see the same thrashing before the end of the week.


Backwoods
The punditocracy wants you to believe the Obamanation is slam dunking it because they believe people are sheep (unfortunately this is one of the few things that the pundicrats are right about way too often) and want to be on the winning side. Therefore, twist the polls to show Obama charging ahead ... and it may become a self-fulfilling prophecy.
But there ain't no fat lady singing. I don't have room here, but take a gander:
http://alaskanwoulds.blogspot.com/2008/ ... nging.html
I'm a life-long Alaskan on the gray side of 50. I've know a fair bit about Sarah Palin. But I don't recognize her in the articles in the mainstream media or east coast blogosphere. Total character assassination. It is unreal. She is NOTHING (sorry for shouting) like the caricature they have painted. She scared the shits out of the elites. That was the one thing they hadn't planned for. Anyone else McCain picked ... they had a slam dunk win all planned out. And it would have worked. He didn't have a chance. But old gambler that he is, he yanked the rug out from under them and caused total panic. I've got LOTS of stuff on that blog about Sarah that you don't know (because no one will tell you). The media hand-pick what Alaskans they will interview. The only major Alaska newspaper is owned by the McClatchy group and they take their marching orders from corporate headquarters instead of looking out the window. Everything about Palin that you've read has been censored by the media.
For instance ... raise your hand anyone who knows that Palin has a higher security clearance than either Obama or Biden! And that she did long before she was picked for the Veep candidacy. They don't tell you that stuff. They want her to appear to be an empty blouse ... and a very expensive blouse. You want to know what a real Alaskan who knows a lot about Sarah has to say about her without it being censored by the punditocracy, drop on by. I'll put the coffee on.
http://alaskanwoulds.blogspot.com/
Backwoods

Baldeagle79
[URL=http://offeringcommonsense.blogspot.com/2008/10/barney-frank-we-need-barney-fife.html]As it has been written, so it shall come to pass.

The Great Obama will win with 200% of the vote. Everyone will vote for him twice.

http://offeringcommonsense.blogspot.com/2008/10/barney-frank-we-need-barney-fife.html[/URL]


Comrade Zaphro

I have voted for Obama 3 times already in Florida, and will be off to Georgia and South Carolina early next week. I have received my 2 packs of cigarettes and a bottle of Strawberry Hill Boone's Farm wine for my efforts. Our Dear Leader will have His victory! PBUH


Father Prog Theocritus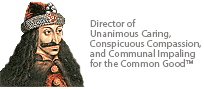 Yahoo news
Palestinian Ibrahim Abu Jayab, 24, is seen next to his computer, in his family house in Nusayrat refugee camp, central Gaza Strip, Tuesday, Oct. 28, 2008. A young Palestinian in a Gaza refugee camp is doing his part to get out the vote for Barack Obama. With a little help from the Internet, 24-year-old Ibrahim Abu Jayab is cold calling random American families from his parent's home imploring them to vote Obama. (AP Photo/Khalil Hamra)[
What a wonderful usage of a young Palestinian's time--when he's canvassing for the Chosen One he's not strapping bombs onto the chests of women with Down's syndrome to blow up Israelis.
That comes next Wednesday.

Cradle to Grave Marxist

"That comes next Wednesday" when The Obamessiah frees up the martyrs' fund assets that Bu$hittler froze.