Raum Emmanual Goldstein
KOMRADES!
Yes, Kon$ervative RethugliKKKans have been dissuading the ignorant masses from seeking to mandate the use of Biofuels as an alternative fuel source by using the propaganda that converting our dwindling food production into fuel.
Now, to a degree, they
ARE correct
have a grain of truth in their assertion… every ear of corn converted to fuel for a progressives multi-fuel SUV is one less ear of corn to feed a starving child or to make a tortilla for a starving non-documented labor unit.
But our little Nipponese friends have an answer to this dilemma! Eat SH*T!!!
I'm sure that FLOTUS will be pushing us to dine turd burgers very soon!
YES... The Present Administration has handed us all a Big Sh*t Sandwich... and we're ALL going to have to take a BIG BITE!!!

mizflame98
I wonder if those turd burgers taste like chicken? No matter. I'm willing to consume them for the motherland.


Chef Borshka
This is nothing new to us old timers here up north. I do believe my recipe to be stolen by japanese spy. To spice up the "turd burger", i have found that using the siberian outhouse fly( as they appear most gloriously at the making of these burgers) as a salt substitute works most wonderfully. My comrades have been enjoying my famous "Borshka burger" since the great war without all the fancy scientist stuff. You just have to know the right ingredient for making your burger most solid as we had many trying days in the trenches with what most americans call turkey trots ( a recipe i have my spy looking out for as we speak).


Krasnodar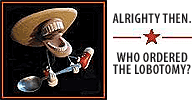 At long last.....the State triumphs in its benevolence its servants, offering us a tasty treat that is actually below
Soylent Green
.
A few " forward thinkers " down at the lab took note of this " recycled " technology and were inspired to build a gravity-powered, eco-friendly food collection and distribution facility. It is modeled, of course, after our progressive administration.
Who are we to complain ?

General Confusion

A great expression from the past, "Let them eat sheet".


John Lenin
Toylent Brown?