Colonel 7.62

Comrades, there has been much traffic in and out of the wormhole of late. While this is fine for Party Approved(TM) business, there has been some rather shady business going on. For instance, several comrades of the four legged variety entered, and came back with information regarding various sporting events that have yet to happen, and have used that information to place wagers. Others have smuggled back various contraband pain relievers that are widely prescribed under Obamacare to serve as a substitute for surgery. And still others, are bringing back shovels with laser cutting edges, carbon fiber handles, and automatically swinging heads. All of which has made it easier for Pinkiesomebody to whack me even more often. I will have my revenge investigate further.

Thus we have had to install a sphinx like creature to guard the wormhole. The Wormhole Sphinx has the face of Ted Kennedy, the body of Rosie O'Donnel, and the tattoos of Gawdafulio in lieu of wings.

Before entering the wormhole, three Progressive Questions will be asked, that only a Made Progressive (and a sober one at that) could answer. Failure to answer will result in a very stern warning letter being sent to the offending comrade, and they will be asked very nicely not to enter the wormhole.

Also, I have noticed that some enterprising comrade is selling sphinx hunting licenses. Hunting the Wormhole Sphinx is frowned upon.


Red Square

Colonel 7.62
Hunting the Wormhole Sphinx is frowned upon.
Isn't the Wormhole Sphinx's proper scientific designation "sphinxter"?
Then it seems hunting season for it has always been on. Answering the three questions to enter the wormhole is something new, though.

Colonel 7.62

Ahh yes, the Wormhole Sphinxter. A hip, more edgy, somewhat groovy sphinx.

It asked me three questions before I could enter the wormhole in search of an all night liquor store...

"Who was the first true president of the United States" I replied "Barack Obama of course." The Sphinxter nodded and continued. "And what is the meaning of Social Justice?" "Opposing that which The Party(TM) finds offensive, and which then causes great damage to the oppressive producing class." Again the Sphinxter nodded and asked the third and final question. "What is the square root of 10,383?" "That makes me feel uncomfortable, and harms my self esteem." With the final correct answer I was handed a coupon for 20% off my next bottle of ObamaCare approved pain relievers and entered the Wormhole.


Reiuxcat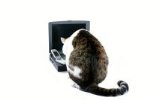 The sexual life of a camel
is stranger than anyone thinks.
In the height of the mating season,
he tries to bugger the sphinx.
But the Sphinx's posterior orphus
is block by the sands of the Nile.
Which accounts for the hump on the camel
and the sphinx's inscrutable smile.