Ivana Tinkle

(Note: The jump shot was just released by the WH in case you didn't think he was superman already.)

Father Prog Theocritus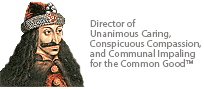 Ivana, my heart goes pit-a-pat at the glory of this man!

There are scalawags who state that Lord O ought not to have gotten the Nobel because he didn't, er, do anything for it. But I say that's even more reason for him to get the Nobel.

What's more impressive than getting something that you completely and utterly don't deserve?

Doesn't that prove your superiority? I mean, Einstein actually did something. And so did--spit spit--Milton Friedman. But Obama? Lord Barry O?

And he got a Nobel just by being his wonderful great and glorious self.

Doesn't that prove his magnificence?