Ivana Tinkle


Commissar_Elliott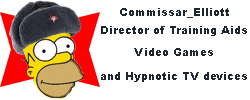 (starts shaking) Uhhh. . .(Grand Mal seizure initiated).

(comes too)
Whoa, let's watch that again!


Ivan the Fool

The egalitarianism of the proletariat was thwarted in an earlier election, but has been more than made up for by the rise of our great leader, Comrade Obama, who will bring peace and unity to all the workers of the world while restoring power to those
oppressed for years by the
bourgeoisie.