Ivana Tinkle

Chin Up: Arrogant Obama - Chin Down: Obsequious Obama

Father Prog Theocritus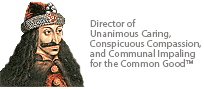 Ivana, what is wrong with this? Obowma has every right to look down on Americans who elected a man without a single achievement and who is the weakest leader in our country's history. After all, don't we Mad Progs have AmeriKKKa? So does Obowma. As he should.
Because AmeriKKKa made him possible
.[center]
[/center]
The first tenet of a Made Progressive is that you kick the people who won't kick back, and bow to the people who might.