Ivana Tinkle


Raznochinets Pewkov

Comrade Ivana Tinkle,
I watched the entire 2:29 of this "Hawaii 00000", and to me it looks like a
blaxploitation show.
Therefore, I must denounce you, Ivana Tinkle, since we should NOT be blaxploitating Dear Leader.

Red Rooster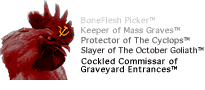 I missed the afro pick comrade Pewkov, but I didn't miss the collective call to mount these glorious videos in the video section, or at least in one thread. They're a bunch of collectivist thugs Comrade Tinkle, and really the only reason they are is because they want YOUR STORY... yes it's eat the flesh of the prole Story Time.

Spill beans, or else!


Comrade Whoopie

I denounce the "flying Dutchman" for profiling and racism. Our Nigerian comrade was merely building a small traditional cooking fire to heat his airline rations when he was set upon by this racist thug and the flight crew. Their unwarranted hysteria could've caused a catastrophe. That's the current truth and I'm sticking to it.