Ivana Tinkle

Fraulein Obamski
AAAAKKKKK,
these subversive sort of videos will not be tollerated by our great leader!
p.s. sssssssh, but I didn't vote for him either. Mums the word!

Reiuxcat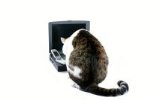 Attn Comrades!
It's already been proven that all the media used in that video was falsified or photoshopped and does not represent his O'liness in any manner what so ever!!!
Oh Hell
All Hail Obama
Actually, it was far worse!!!
Well done fellow feline.

Reiuxcat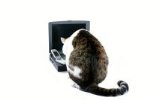 Psst, Fraulien Obamski,

Are you free tonight? You look like you would have an excellent lap to nap.