Ivana Tinkle

I'd Rather be Having a Root Canal Than Watch "Christmas at the White House: An Oprah Primetime Special"

Father Prog Theocritus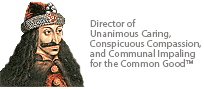 I do so love Michelle. She talks about her career in Princeton and Harvard and then how important it is to invest in public education.
See? She is so much of the people that she didn't know, after all those years at Princeton and Harvard, that they are
private
schools. And let's never forget she did her senior's thesis on her experience as a black woman at Princeton.
Oh dear. And when I was in college I spent all of my time proving theorems, and writing compilers, and translating Virgil and I could have put the back of my hand to my forehead and sighed, very dramatically, about how it felt to be gay at Rice.
But for some reason I felt that I ought to freaking learn something.
I learned from Michelle. Don't do the work. Just piss and moan.
Tell me something. Orca is five times as smart as President Zero. She built an empire, from nothing. She's the best of a sorry lot, by far. She's a
smart
woman. Is she emotionally invested in a black president to the point that she can't see how exiguous and what a nullity he is?