Red Square


Premier Betty

What the hell is wrong with that guy. It's like he had a seizure and couldn't slapping himself on the head, and then everyone else did the same. I wonder where they took him after they removed him from the chair...

By the way, is there sound? The volume button is set to mute, and the button isn't activated so I can't adjust the volume.


smersh

I guess this is what Ahmadinejad meant by saying;
"We need Iranian Education."
He never mentioned Karl Marx, Lenin, Al Gore or John Kerry
Fucking Moron.
Hillary, we have to include Islamic extremists in our mids.
I know you already are on great terms with him.

SMERSH HEAD of KGB
Section 9


Commissar_Elliott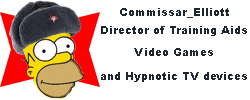 This guy is the love child of Reverend Wright and Karl Marx!


Grigori E.R.

The Holy Man of
Islam
in the video was merely doing his impersonation of Curly. Curly, for our younger members, was one of the Three Stooges. He was often slapping his self in the face and head when he got frustrated.
Three Stooges Curly Kills The Clam Soup