Ivana Tinkle


Commissar_Elliott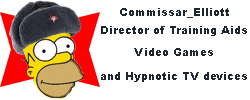 (off)
So we are living in some sort of Wonderland? If that's the case, WHERE'S THE RABBIT HOLE?!


Comrade Whoopie

Personally comrades, I find his pearly whites framed by his mocha brown lips comforting. Kinda the way Osama would look if he ever smiled.

I think Obama should be doing tooth whiting commercials. His talents are wasted in the white house.