Ivana Tinkle

Obama's war against Fox News and other critics has Groucho all fired up. I quote some lines from both Marxes.

Comrade Whoopie

I will not stand for anything that's crooked or unfair
I'm strictly on the upper knot, so everyone beware
If any man's caught taking graft, and I don't get my share
We stand'im up against the wall and pop! Goes the weasel

--Marx (Groucho, not Karl)

From the song "Rules of the Administration" sung by Rufus T. Firefly


Ivana Tinkle

Whoopie, that's from Duck Soup. Great lines in that movie.


Red Rooster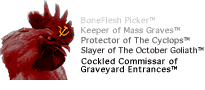 Comrade,
You forget key ingredients of Duck Soup....