Red Square

Last edited by
Red Square
on 5/29/2020, 10:51 am, edited 3 times in total.
REASON: Original video was no longer available. Replaced with similar. Grigori

Premier Betty

The most appropriate kkkapitalist PIG strikes again.


Commissar_Elliott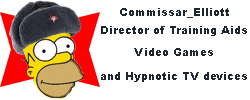 Too bad it's only the White European RethugliKKKans who would eat Porkey. If he were made of something our comrades of
Islam
would like, we could have a big feast!