Ivana Tinkle

I'd like to thank the Academy for awarding me the Oscar for Short Documentary. I don't deserve it.

Opiate of the People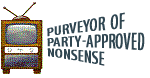 Actually, the Oscar for Best Short Documentary goes to.... Barack Obama! (Yay!)


Comrade Whoopie

Just wait until a film crew shows up on the front porch of the White House with a giant sized check from Publisher's Clearing House.