Ivana Tinkle

Ms Franchey was guiding her students throughout this video. First graders don't spontaneously talk like this. She said to the first girl, "Is he like a hero to you?"
Pavel Shovelindasky
speechless


Komrade Zarkof
A fertile mind is a terrible thing to waste. We must begin the training of the Obama Youth and StormTruther's as soon as possible. Another success story for PubliKKK education!!


Comrade Whoopie

Of course there is only one reason the cult of personality must be inculcated in 6 year olds...Obama plans to still be in power when they finally reach voting age in 12 years.


Red Rooster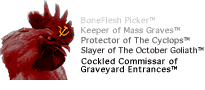 Hail Obama!!! Inoculate The Children with Hope(TM) & Change(TM)! Comrades, The Wave must go on!
Incoming!!!