Ivana Tinkle

I can't wait to see this commercial on Thanksgiving can you? Obama is probably the first president to make a commercial, I mean public service announcement, with the NFL.

Father Prog Theocritus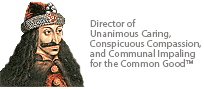 Ivana, let's not ever forget that making commercials saves His O'liness from the difficulty of governance, which is, er, let's never forget, difficult, and does not go with rock-star-politician status.

I just wonder if rooms of the White House get trashed during party nights.