Red Square


Red Square

I wish the mushrooms were capitalist pigs with dollar signs on them...


Premier Betty

Shouldn't he have a plunger instead of a hammer?


Commissar_Elliott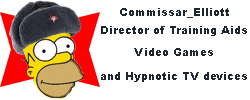 Awesome! He even raised the Red Star flag over the oppressive castle of capitalism, but why were there no fireworks shot off to symbolize this revolution?