Ivana Tinkle

Obowma's gift to the American people. Too bad there are no exchanges until 2012.

Father Prog Theocritus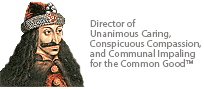 Ivana, this is scandalous! How dare you mock President Pussy!

I am a made progressive and so I worship our Pussy-Boy President! I just love how he's either looking down his nose or looking at the carpet. What could be better for someone who hates America?

As all Made Progressives do.


Leninka

Put a pair of sun glasses on that hind end, and you've got "Mr. Cool."