Ivana Tinkle

Today, under Barack Obama, there are two Americas, not one-The Obamas puttin' on the glitz
Imelda Obama and her husband are living large on our dime.
Fraulein Obamski
Mama Osama. . . mama Obama is proving to be a worthy comrade. It is a pity, that the dress doesn't make her look more fetching. Bowwowskis


Komrade Zarkof
Our Blessed Mother, Michelle, needs those boots in order to kick the Birther's, Denier's and Reich Wingers asses. She will have Her own crack battalion of StormTruther's to command during the coming Purges.

Praise be onto the Obama's!!!

Fraulein Obamski
All hail to the new rise of communism from our illustrious leader, Papa Bama. mama Bama and all the baby Bama's!

Evil Smiley


Red Rooster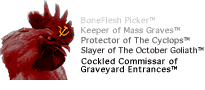 We must say Comrade Tinkle, your video's are starting to show a real Progfessionalism(TM).... Excellent work Comrade!