One Nation Fizzles Together: Pictures from 10/2/10 Rally in DC


The Astroturfing
How to plant the seeds of socialism and grow a semblance of a vibrant movement
A good socialist, like a good farmer, must be patient and prepare seeds of subversion in advance.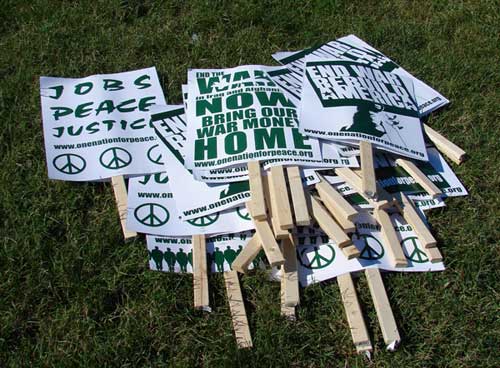 Choose the best suitable day and bring the sowing material early in the morning.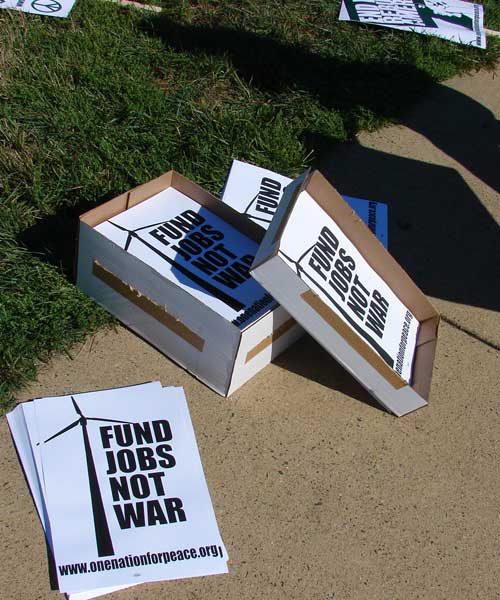 Place them carefully and lovingly in a place where they are more likely to be noticed and develop an attachment to a host body.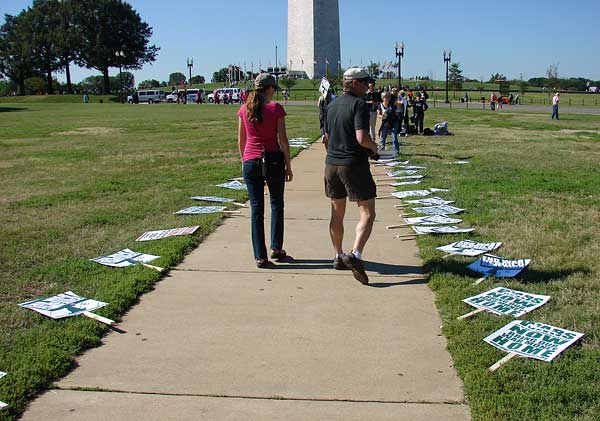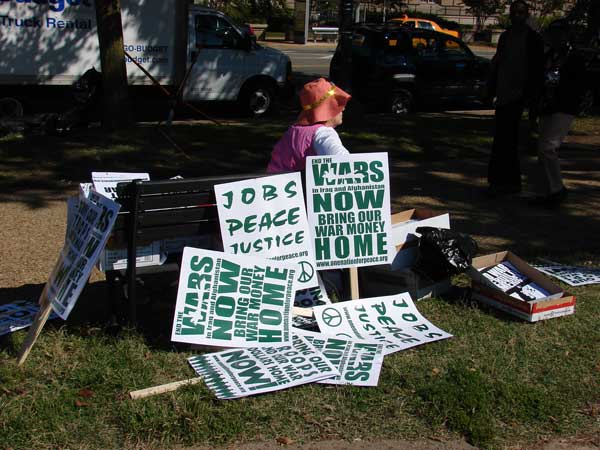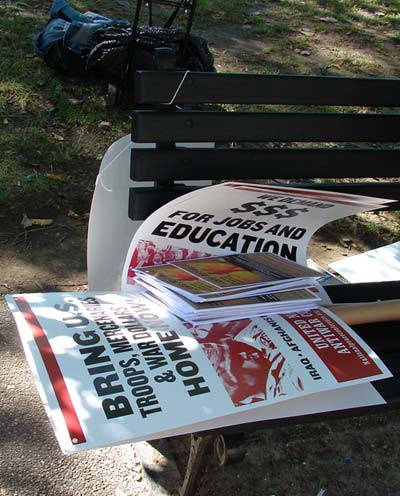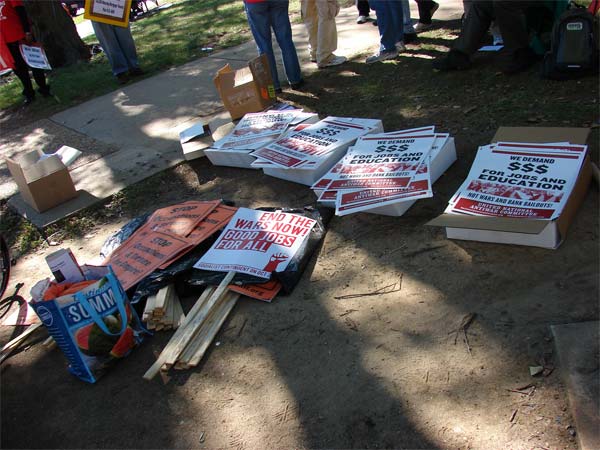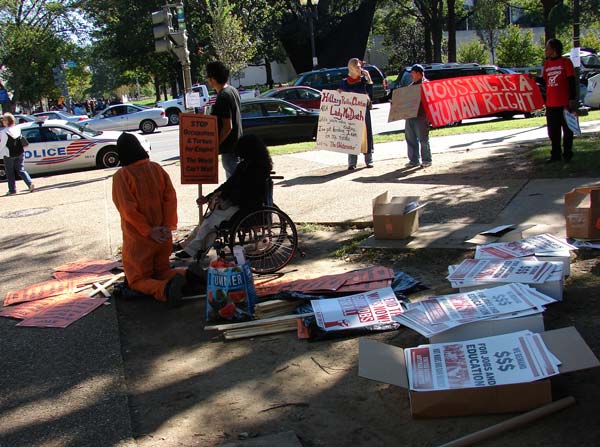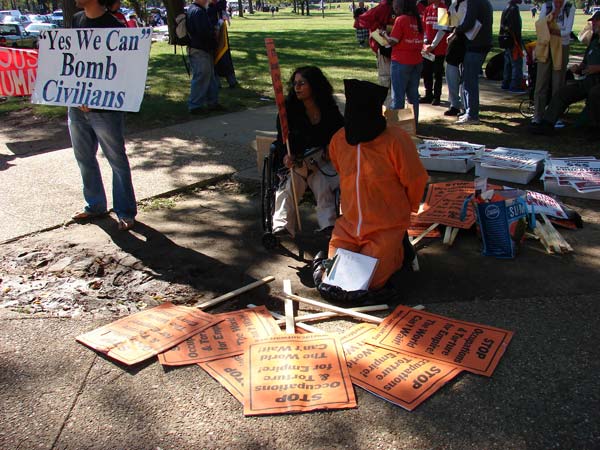 As you plant them, spray the area with BS or any other comparable fertilizer using powerful loudspeakers.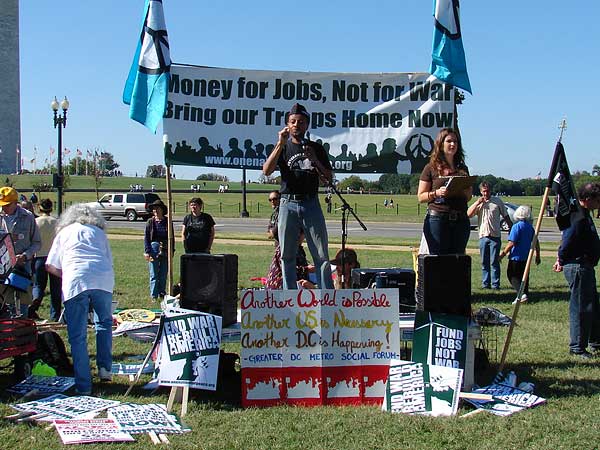 If you want to organize a march with people carrying your signs, but are worried that not enough motivated carriers will show up, do what the One Nation organizers did.
Make sure that another, unrelated massive event - such as, Aids Walk - is happening at the same time, sponsored by groups an organizations that might otherwise want nothing to do with you.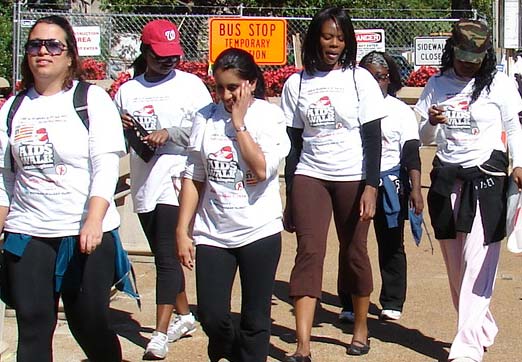 It is also a plus if the event is supported and financed by taxpayers' money through a government agency, such as the National Institutes of Health under the aegis of Department of Health and Human Services (see markings on the trailer below).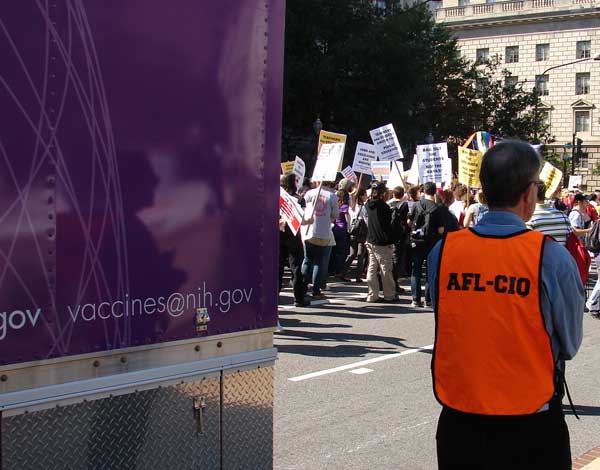 Organize things so that the walk of thousands of local students and employees of participating organizations ends at the exact time and place where your rally is about to begin.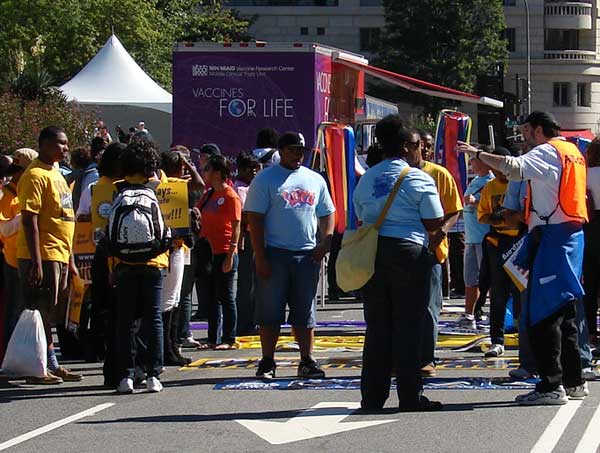 Give away boxes of free shirts with your insignia so that anyone wearing it will immediately acquire a look of a uniformed activist.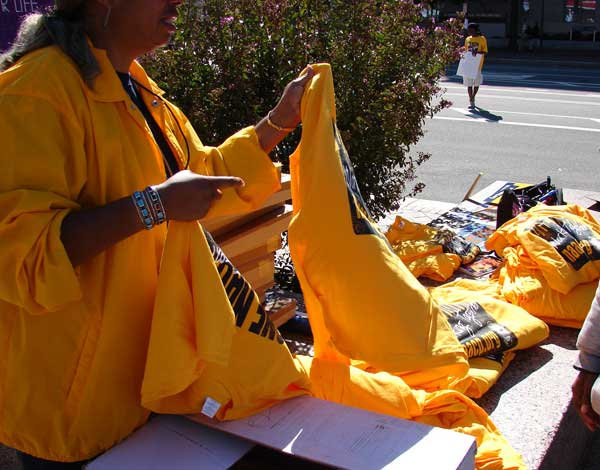 SEIU was a pretty free shirt, but NAACP is even prettier - and also free! Would you like a sign with that? Would you want to go home when the day is only starting, or would you rather vent the accumulated adrenaline at a march and a rally that would make you feel as though you're doing something meaningful for the community?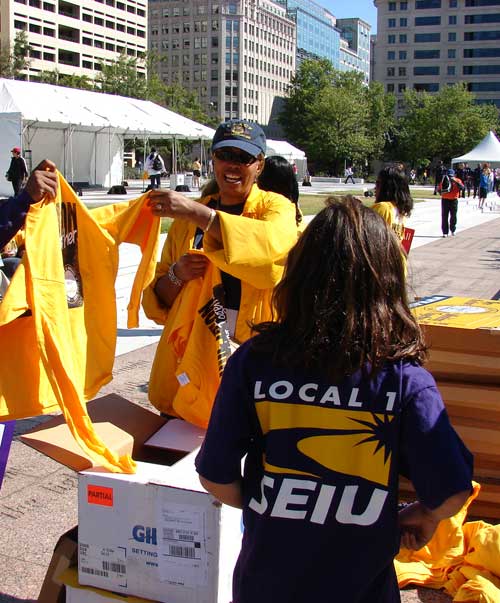 I did!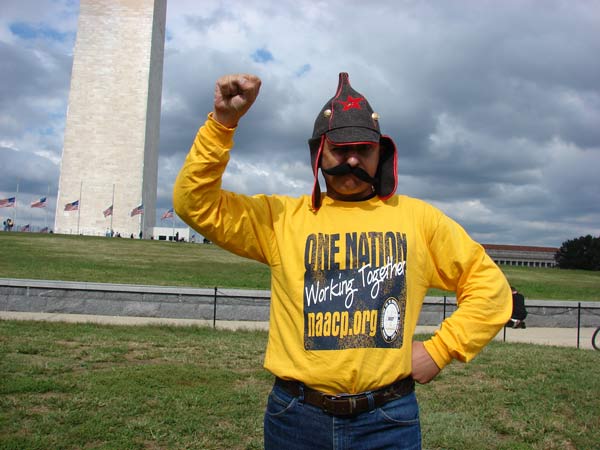 Now you have to bring them the signs.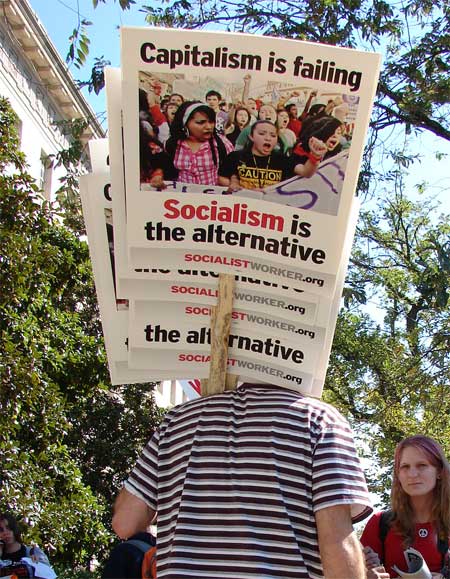 And have more strategically positioned along the route.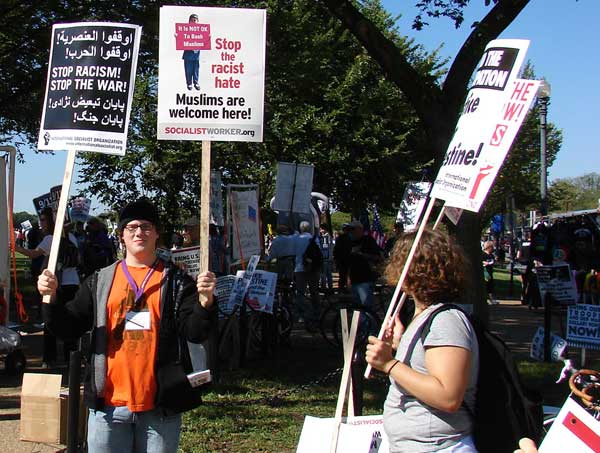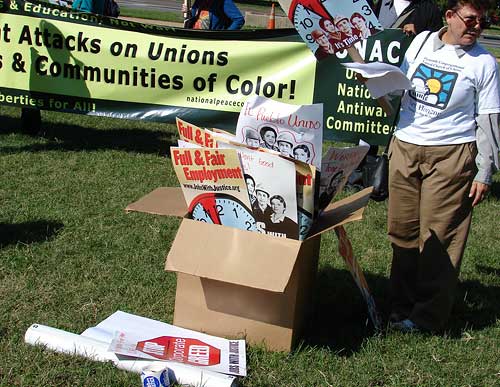 Or they can just slap your One Nation sticker over the Aids Walk shirt. Here we go!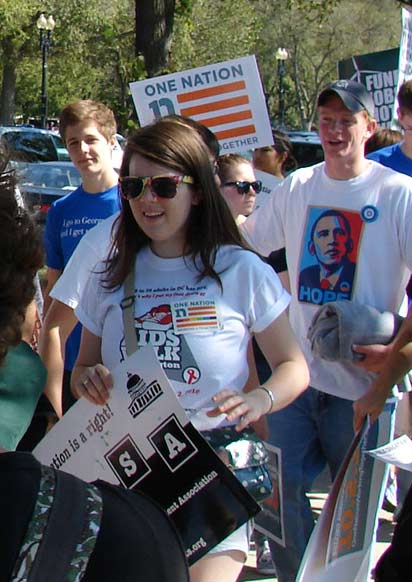 Look at that - we've got ourselves a sizeable march of young and attractive people! And how about an NEA grant? You surely could use a few thousand free dollars as part of some very progressive government program!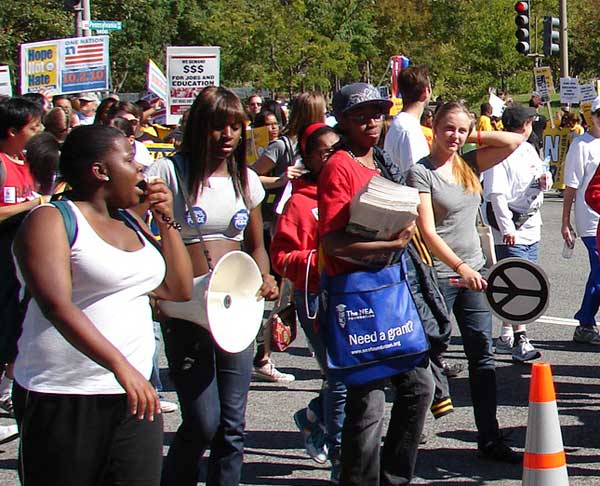 That's right! Stop robbing the middle class to pay the rich! Or something. Now!!!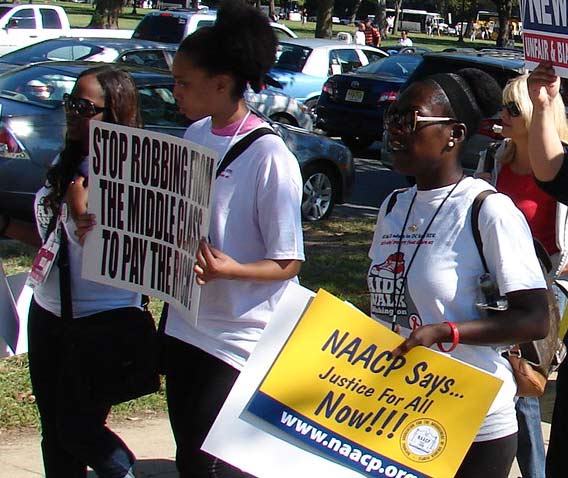 Ah, the seeds of socialism... They grow so fast!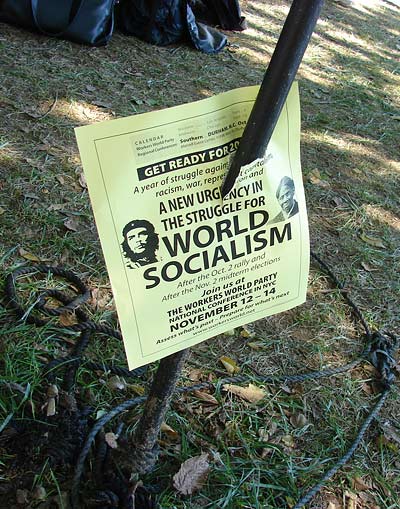 ---
<< BACK TO 'ONE RALLY FIZZLES TOGETHER'
MORE HERE:
The Astroturf
How to plant the seeds of socialism and grow a semblance of a vibrant movement
The March
Marching youth is more photogenic than fat union slobs lying on the grass
The Rally
Sign-a-palooza: professionals and amateurs compete in spreading Party-approved messages
The Sleepers
Sleeping on the job is a human right, especially if you're a union member
The Haters
Stop hate speech - unless you speak of Tea Parties, Republicans, Bush, corporations, and the capitalist system in general
The Absurdities
Dialectical contradictions of socialism in pictures
The Radicals
Agitation and propaganda for the masses
The Trash
Cleanup is not in our job description; some union gets paid weekend rates for doing that
Dissing 'Imperialist' War Memorials
War memorials - what are they good for?